January Temperature Blanket
How's Your Temperature Blanket Going So Far?
I have to say that I wasn't sure if I was going to enjoy crocheting this project.  I mean, how could I possibly take eight colors and crochet them in a random striped blanket and still like it?
People close to me know that the word random does not fit into anything I do.  If someone says, random anything, I freak out a bit.
Well, I have to admit, I am loving my Temperature Blanket so far.  I am enjoying seeing the colors change often.  Although, my Indiana weather has been quite a bit up and down more than usually this year, I wouldn't have thought I would already have 4 colors for the month of January.
I am using a simple linen stitch for my blanket.  So far for January, mine is 7.5″… so that means it will be an awesome 7.5 feet long.  I can't wait to wrap up in this next New Year's Eve. 🙂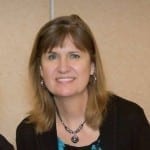 Be creative! 🙂 – Jeanne – The Crochet Crowd