Reading Time:
2
minutes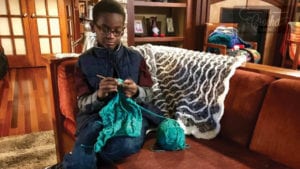 Jonah Parters with Our Education Team
It is a great honour to have Jonah partner with the Yarnspirations' Educational Content Team in the next coming months with inspirational how-to-videos for beginners to inspire other children and adults alike.
Jonah came into our lives in late Spring of 2018 with showing us his creativity. Truly, mind blowing at the skill level and interest he has. I call it genuine and the 'real deal' with a young man that is motivated by the yarn arts. In this case, crochet.
Try my Crochet Frosted Tips Blanket that Jonah made that's on the couch in the background.
Our team, aka Jeanne, has been in constant communication with his mom since the beginning. In watching the evolution of his skills unfold before our eyes.
Jonah has launched his own YouTube Channel called Jonah's Hands.
Speaking bluntly, it's difficult to fight the stereotype of being male in a female dominant hobby. However, it doesn't stop him or I for wanting to participate in the yarn arts. In fact, I love that it breaks the stereotype.
Yarnspirations will be providing him guidance along his journey. Daniel refers to it as "Jonah's Journey".
Stay tuned to Yarnspirations in the future as the mentorship goes underway. I bet you will see personal and professional development as Jonah is being gifted a rare opportunity to come to understand the behind the scenes world of crochet. It is anticipated that Jonah and I will collaborate together for the enjoyment of crochet in the months to come.
Don't Loose Sight
Jonah can crochet incredibly quickly. In fact, I believe he can crochet faster than I can. However, it's not about speed and he knows it. He genuinely loves the craft. Though some newscasts are raving on how fast he is, that's what makes news more interesting for TV but here online, it's about passion and creativity. He just happens to have both.
We are excited and look forward to his evolving as he learns more. It will be an interesting journey to watch a novice in the social media blossom with the help of mentorship. So Daniel has it right, it's Jonah's Journey.
Find Jonah on Facebook. It is moderated by his mother for his protection due to his age.