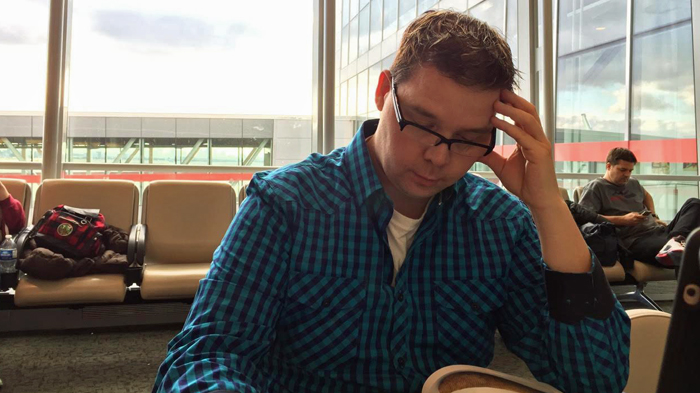 Knitting in Public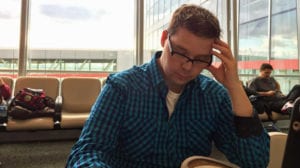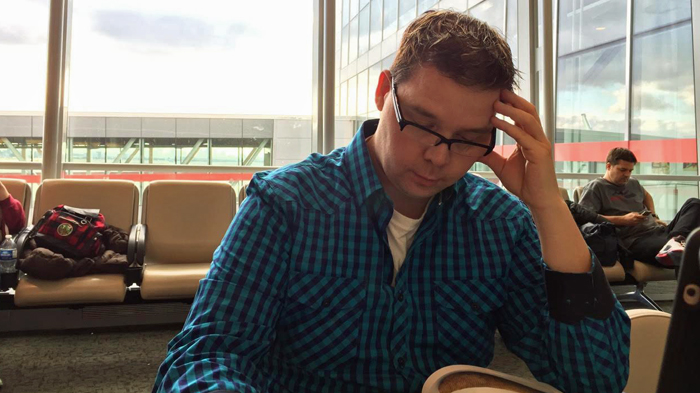 For years I have crocheted in public. Airports, malls, performances and even in public parks. I'm not embarrassed about crocheting gin public as it's a harmless hobby that I thoroughly enjoy. If someone feels the need to judge, that's really on them. For me, I don't want to be waiting twiddling my thumbs not doing much but instead, see what more I can do with a ball of yarn. Maybe it's partially addiction to the hook, but there's got to be something in there about the need to be creative.
Today, I had the opportunity, for the first time, wait for it… KNIT IN PUBLIC! I know scary right. In the quest to further my own skills, I need to practice. So for my first project, I am attempting a simple baby blanket with the garter stitch. Nothing fancy but I am in the project for two reasons.
First reason, to get used to the motion of my hands to the needles and yarn. It's different than I crochet. I am practicing so that the feeling of the awkward moments can disappear and be my norm.
Second, I want to make something constructive without killing a lot of brain cells.
For reasons in my past with knitting, I have jumped from holding a hook to attempting a project that is beyond basics. I can crochet some really neat stitches and I feel I should be able to master beyond beginner stitches with knitting. I have failed miserably. I relate it to learning how to type back in Grade 10. Did we be start by writing a letter? Nope… We did the GGG… HHH and more. Boring as it was, the mission was to get comfortable and skilled to know where the keys were on the keyboard in order to know what to push. Today, I can type very quickly but with auto correct, I have gotten lazy in learning to spell and many times during one-on-one chat with my team, my spelling is sickening to put it mildly. Even on my blog, I don't have best grammar and mistakes do happen. Am I worried about it too much? Not really… I am who I am.
I failed with knitting in the past because of assumptions that I am the king kahuna with knitting though I can barely identify what the needles were. Even this past week, I actually learned was circular needles were. I am expecting other experts to come to conclusions that I am moron for not knowing. The one set of books I hate the most is the "Idiots" series. I know it's just a play on words but I really don't want to hold a book that says "Crochet for Idiots". There's a difference of being an idiot and not having the education or instruction ahead of time to know the difference.
There are many elements of crochet I love and The Crochet Crowd. Never take for granted the education level of learning. It's okay to ask questions and not know the difference. For me, I'm attracted to crochet because the learning never seems to end. I am fascinated with learning. In fact, a fabulous personal holiday for me are memories I can bring back where education was a key component. I'm driven by the opportunity to learn. As much as I teach others, I absorb the skills and ideas through learning from others too. It's symbiotic to put it in terms I get.
So I am going back to the basics… but saying back doesn't make sense for me right now. I am starting from the very beginning. I learn something, I practice. I learn some more, I practice.
I've come to some quick conclusions already. Knitting takes longer but the look is different. The project doesn't take as much yarn as it was crocheted but the project created is softer and not as rigid. So I have to muster the patience the slow down and knit slower than crochet but realize the final look is different and the feel will be as well. For me, that's motivation to continue the education.
So today, I was knitting in public… What is more interesting is the difference of public reaction verses crochet. Either the crochet hook is more foreign to some as knitting needles seemed to be better recognized. Even when I am crocheting, people ask me what I am knitting. I think the public can identify when someone is knitting better than crochet.
An gentleman, age 83, Sat across from me. He had such a delightful smile. He engaged me immediately with conversation and I told him I was just learning. He complimented my project. Conversation was free flowing and I came to learn he knew how to knit too. He hasn't knit as an adult but reflected that in Grade 6, in Canada, in the 1940's, that in school, knitting was part of the activities that were taught. While he was too young to be involved in World War II, he was part of it through his hands. In fact, his school's mission was that every child was to learn how to knit. They were supplied yarn and knitting needles. Together, they learned how to make squares. Once completed, the squares were sewn together and forward to the Canadian Soldiers fighting in the war. Something to keep the soldiers warm and memories of home.
You see my friends, knitting or crocheting in public is a gateway conversation waiting to happen. I was touched by this man's story today. He reflected that today's education seems to have forgotten the basic skills of the yarn arts. While he hasn't knit as an adult, he has the skills and probably a refresher course would have him on his way to be creative. Politics and touchy subjects can be sidelined and creativity of memories and more become the focal point. Yarn arts can be solitary but it also can be the projects that weave us together.
I came to talk to many people today at the airport. People approaching me. As the plane loaded, I guess more people were watching me and the ladies passing me in the aisle as they walked by me congratulated me for knowing how to knit and complimenting the project I was making. It was positive affirmation for me. While no one today recognized I was Mikey, of The Crochet Crowd, it doesn't matter. Two ladies didn't know you could knit or crochet on a plane. They've never seen anyone do that before. One of them said to me, that will be last time I go on a plane with a magazine, I will not leave my knitting behind. I would prefer to knit than to read, she remarked.
I encourage you to be creative in public. Use up that waiting time. You may meet some interesting people and you may be like me. You have a project to show for your waiting time but you also may have stories that delight and enrich your life.
Be creative, not just at home on your couch… but in public and always! Life is too short to be a drone waiting for something with nothing to do. Put your hands to work which will exercise your mind and potentially open up new friendships and stories within.
Mikey
PS – Join my Knitting Journey at The Knit Crowd on YouTube.