Every year I look back for the triumphs and failures of the year to reflect. From the pivotal moments that are self-defining. Yes, it's only November 23rd and my yearly break is directly ahead but in every way possible, I'm winding down The Crochet Crowd for the year for a reset after my return.
Film Tutorials with Substance
Starting with a self-goal to be the year of the stitcher's journey. The journey of self-discovery for pushing myself into directions that uncomfortable to learn more. Do projects where a video is necessary versus the same old projects. In the industry, a lot of patterns get recycled using different yarns. The older videos already cover many of the concepts that get shared by people online and from me directly.
If people have their way, they would have me film everything but I don't think everything needs that level of detail.
An Accidental Discovery
Near the beginning of the year, I filmed a couple 'talks' of quick and to the point messaging about things related to the industry. Questions and observations. Crocheters seemed to really appreciate it which lead into me doing more and more talks.
With doing talk-based videos, it took time away from doing full tutorials. They are faster to film, but the editing and social push is nearly the same time wise.
This led into a common segment of Mikey Talks that were done and recorded in Spring that lasted to early fall. There's a reason why I stopped. Technology and shift of content absorbing by community members.
---
Hype House Reality
During the last spring, I binge watched a TV Reality Show called Hype House. I wasn't there for the drama but watching the influencers behave, react and think of content. I found the show to be extremely sad, though, I don't think it's intended to be that way.
It's based on young people, in their 20's who have raised to fame through social media content creation. To the point, a few of them have made substantial money. Some of them have the attitude to go with the rise of the power. In today's world, movie stars are pretty much a thing of the past but the social influencer is more in real-time and raw. Some of them really make fun social content while others set a bar with some excellent content but then run out of ideas and become irrelevant. They mentally fall into really deep levels of emotional turmoil. I can relate to that sense of failure of trying to make content that most people like but will always fail someone. I have to come to terms with that years ago.
One of them, they were starting to do pranks at the risk of personal injury just for the fews. That's what you know it's desperation for attention and view counts.
One of the biggest issues of producing content like this, for me, is the fact people can see your true-self. The good, the bad and the ugly of a host. Allowing people to be 'inside' the door of a person's home. In 2019, I was asked if I could film or post more photos of behind the scenes and short-form content. I didn't want that then because I wasn't ready.
The biggest factor between Hype House and myself is the responsibility level of not receiving products and talking about them just for the cash. For example, I will get people asking me if they give me something, can I talk about it. Everything I get is unrelated to crochet from make-up, skin creams, medical equipment, home decor and much more. To me, it cheapens my strategy as it's too easy to do that just for the money. I decline everything and stick to my main sponsor as yarn is my thing. I have no business recommending therapy sessions, life coaches and much more. There is accountability.
In very beginning, I was more transparent with my personality. I can be witty, sarcastic, humorous and relatable. However, back in 2008 when I started, the death threats and much more really got to me. I realized, it was better to stay focused on the project and not talk much about me in videos. Less I reveal, the lesser the complaints. Today, we still get them, but the filters pull them from the social platforms. I still see them but I am less tolerant that I will give someone my power to let me live being afraid.
The difference with me is that I am educational-based. There is always something to learn. I don't have the muscles and I am old compared to the 20 year old. For me to do slapstick, stunt-like videos is not in the cards. Nor is it related to what I do. I find the content creation is endless. If you start off with a hot body and it begins to fade, people get tired of the person pretty quickly.
Also, never to project something that isn't real. Be true to yourself.
Humour is very subjective. What makes me laugh is completely different than others. Daniel and I have the same humour so it makes for living the same house much easier.
---
Self Improvement
Over the years, I have learned through Daniel how to make crochet diagrams. He studied Adobe Illustrator much earlier than I did. He was originally doing our diagrams. Daniel isn't as detailed as I am for alignment. I don't like to settle for something that looks a bit out of alignment. Does it matter to a crocheter? Probably not. It's more for myself.
A few years ago, I wrote a manual on how to do the skills to draw a crochet diagram. The keys, sequential orders and more. Today, I can make them much faster but it still requires time. I used a week to write this up and also customize the shapes that have become my personal library. No, I don't give this documentation of library of my symbols to anyone. It's too easy to hand over the shapes I have creates that make up the symbols versus someone learning how to make them.
I just couldn't do a course on doing anything in a square or rectangle. Only row by row. I took a 4-week workshop with Edie Eckman on diagram making. My gawd, best money of the year ever spent.
With her workshop, I was able to put the Study of Possibilities diagram together.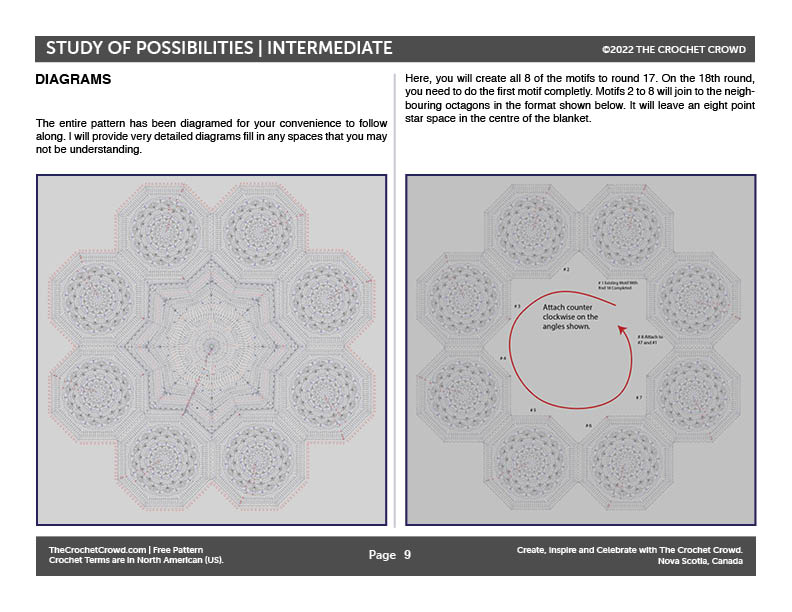 Study of Possibilities Afghan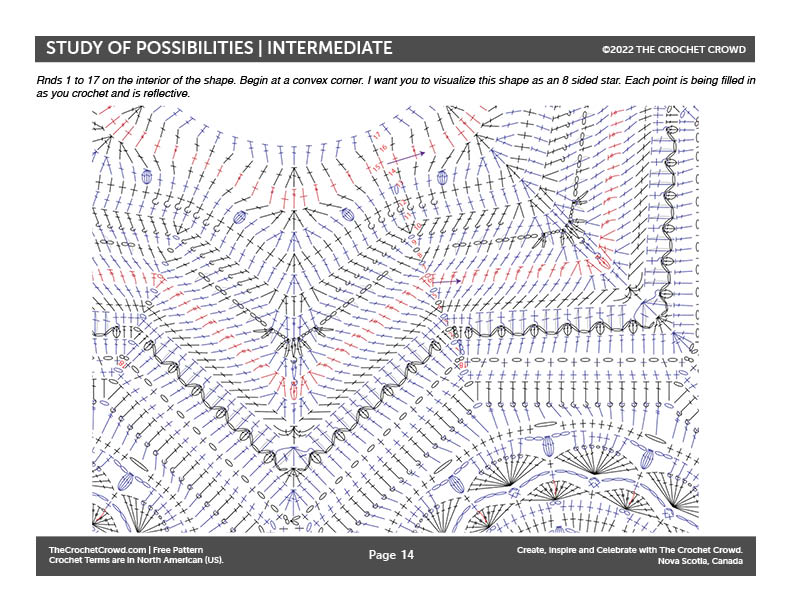 My goal was to hand over a free design to Yarnspirations for them to use my diagram work. They have high standards and I really wanted to hit that objective.
The Snow Days with Hot Chocolate Blanket is my first mega design where Yarnspirations used my diagrams in the pattern for their website. I was really honoured by it.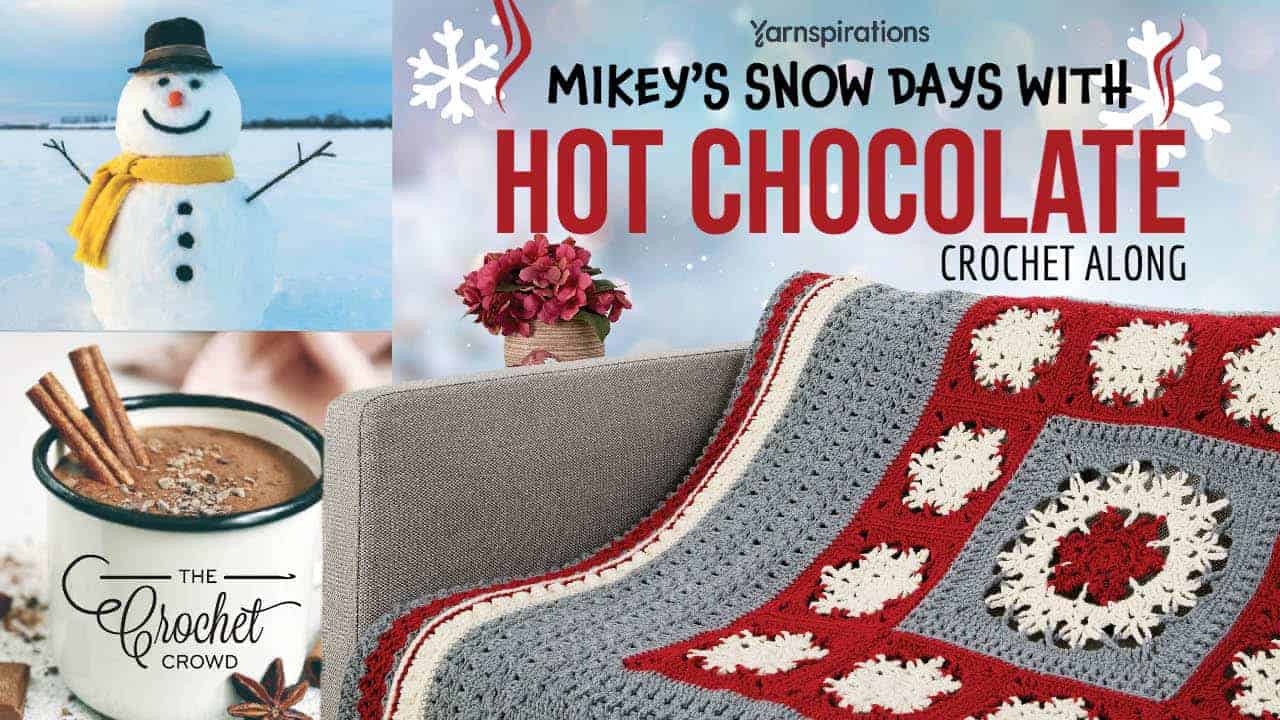 ---
Canadian Legislation
By June, the Canadian Government was starting to put restrictions on advertising to Canadians. Looking to the USA as a person who is surfing online is inundated with ads. Restrictions on how many ads a Canadian will see within a stent online. To pull back the advertising from the eyes of Canadians substantially. This would be impacting Canadian Creators like me. Due to my size on YouTube, I am assigned a YouTube Representative that guides me, answers questions and much more. April, my mentor, gives me insight and was guiding me about this process.
April also talked to me about doing short-form videos more and less bigger content than I had been doing. Fundamental shifts in the way information is being absorbed by the public. I'm old school and prefer longer-form content to learn from. The learning in under 60 seconds is challenging for my mind.
The flip side of me, I learn programming from other YouTube Hosts for coding. If the host is too long winded and not staying focused, I am out of there. Get to the point and stay on point. Daniel instilled this into me years ago on The Crochet Crowd. "Very few people care about me as a host, just teach what you intended… stay on point and don't share much about myself on the video side of our business." It's one of the best pieces of advice. I am less likely to harmed in negative comments when I don't share much about myself. I'm not hiding, just teaching the lesson and keeping my personal life to myself.
The short-form content is a direct about face of something I have been avoiding. Short-form content needs to be witty, entertaining and relevant. Sometimes, I can post just a stupid short that I find funny, at least to me.
I hired a consultant in July to guide me through the process of making short-form content. There's a lot to them, other than just push record. It's a whole other science that the long-form content doesn't touch. You have to get to the point, stay on point and get off the video as fast as possible. The longer the short-form, the worse it will be. I won't get into specifics. It was extremely difficult.
I used his online workshop as my guide and took 4 pages of typed notes. I won't recommend him as I think he has a marketing machine. His emails were giving me shit for not doing stuff. I realized his emails, though promises personalization. I was on an email drip. Meaning the emails are pre-written and served to me daily with things that are not relevant and lectures about not doing the content when I actually was. I ended the relationship. His online workshop was fine but the personalization promised wasn't what is promised. It wasn't a waste of money but definitely not all it's cracked up to me.
The Ghost of Stitchers' Past was one of the first shorts I tried. To tell a story but let my sarcasm out of the box. Also to project a more gay-forward personality. It's something I have done good in keeping that element offline. These kinds of videos doesn't serve us well, nor produce the video views.
The shorts can be fun to make but they are very, very short lived. So I have to watch how much time I spend on this versus content that is revisited like a regular tutorial. There is no monetization with the shorts, so there's nothing to be gained other than subscribers.
The down side of short content is that it can be open to interpretation and definitely the people that love to inject their hate and opinions come out of the woodwork. It's because a real personality is shown instead of something so filtered through a recorded tutorial series. People either like you, put up with you, have a neutral opinion or want to run you over with a bus. This is when it can get difficult.
Overall, and a reality check. The majority who watch them have fun with it. The humour, the tips and the wit. It doesn't resonate with some people who wish it was never made in the first place.
My generation versus the younger generation are split on this level of content development. I'm old school and probably think many of you. I'm not trying to be the cool mom, I'just try to let more of my personality out of the gate.
---
If Not Now… WHEN?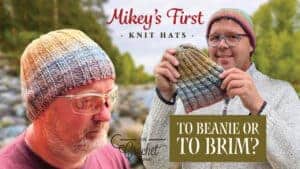 September 11, 2022 marked the day when I decided to pick up the knitting needles with a clear objective. Make myself a knitted hat. My mother knew how to knit and I thought, there has to be something to this hobby as I cannot seem to focus on this hobby without boredom hitting me in the face.
I have had the desire to learn to knit but there is never the right time. My lifespan is ticking on and each passing moment is time lost. I thought, let me spend some time and play with the yarn with knitting needles.
I put out many shorts of trying to find the joy of this hobby. It finally hit me after my first successful hat. Then, it went a step further as I kept trying and trying. I was practicing nearly daily. Yes, it's a much slower hobby by the results can be almost if not better than store-quality hats.
I found my joy once I tried doing experimental colour work. I did the Fading Shades Hat design. My gawd, I was so beside myself on how exciting it was.
The trick to the knitting isn't just the yarn, it's the knitting needles themselves. They are not equal to each other. I really like the Lykke Knitting Needles the best. The interchangeable points are amazing. My tips are short being 3.5″ which I would have thought would have been weird. So much better.
If you are struggling with knitting, look to the needles as the problem may be the needles on how you are holding them, how they slide the yarn and more. 
---
Shifting to More Knitting
My October, I was getting more and more hooked on knitting. I wasn't willing to quit. I have tried knitting before but usually quit within a few weeks. Too hard and I can give a lot of excuses. This time, I wasn't willing to quit. I wanted to keep on going and push myself to find the joy in the hobby. It has to be there, more people knit in the world, than crochet.
I started teaching the knitting again online. Last time I did it, I did a few stitches but nothing of quality substance, project wise. It was a train-wreck.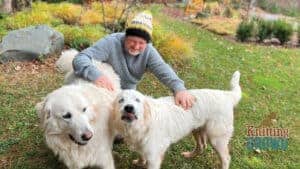 The pivotal shift came within The Crochet Crowd Community itself. People pushing back on me for learning to knit. They are not realizing I am doing this honour my mom. But truly, why would they care about that. I wanted to keep The Crochet Crowd YouTube Channel to have these videos but within each release, people were complaining that there was knitting. I thought, I'm going to loose my momentum if I listen to this crap.
I went through a month of that. One viewer took it upon herself to count the number of videos I had done in September / October to highlight how many were knit and crochet. To compare that I am not doing enough for the crocheters and to get back on track. Honestly, that criticism didn't sit well with me.
Daniel and I had a lengthy talk about my goals. He says, you need to separate the knitting out from The Crochet Crowd. You are not doing the same hobby, though yarn is the common denominator.
---
A Comment Punched Me in The Face
By November, a YouTuber's comment was pretty rough. It was wreaking in self-entitlement. However, they weren't wrong. Over the course of 8 days, got our old channel The Knit Crowd out of archive. There were videos sitting in the channel that were hidden from the public. I retired it back in 2018 as I wasn't doing anything with the channel. I was struggling to balance working with two properties.
I finally had enough of the negativity and decided to end it. I unlisted all knitting from The Crochet Crowd so it's not searchable and shifted it over to The Knitting Crowd. It will take until the end of February before all of the videos are back out in the public domain.
I have hated the name The Knit Crowd and rebranded to The Knitting Crowd when I pulled it back out of the dark. I really liked how it looked in the indexing of YouTube. Jeanne offered to help me with the channel as I cannot run two YouTube channels effectively.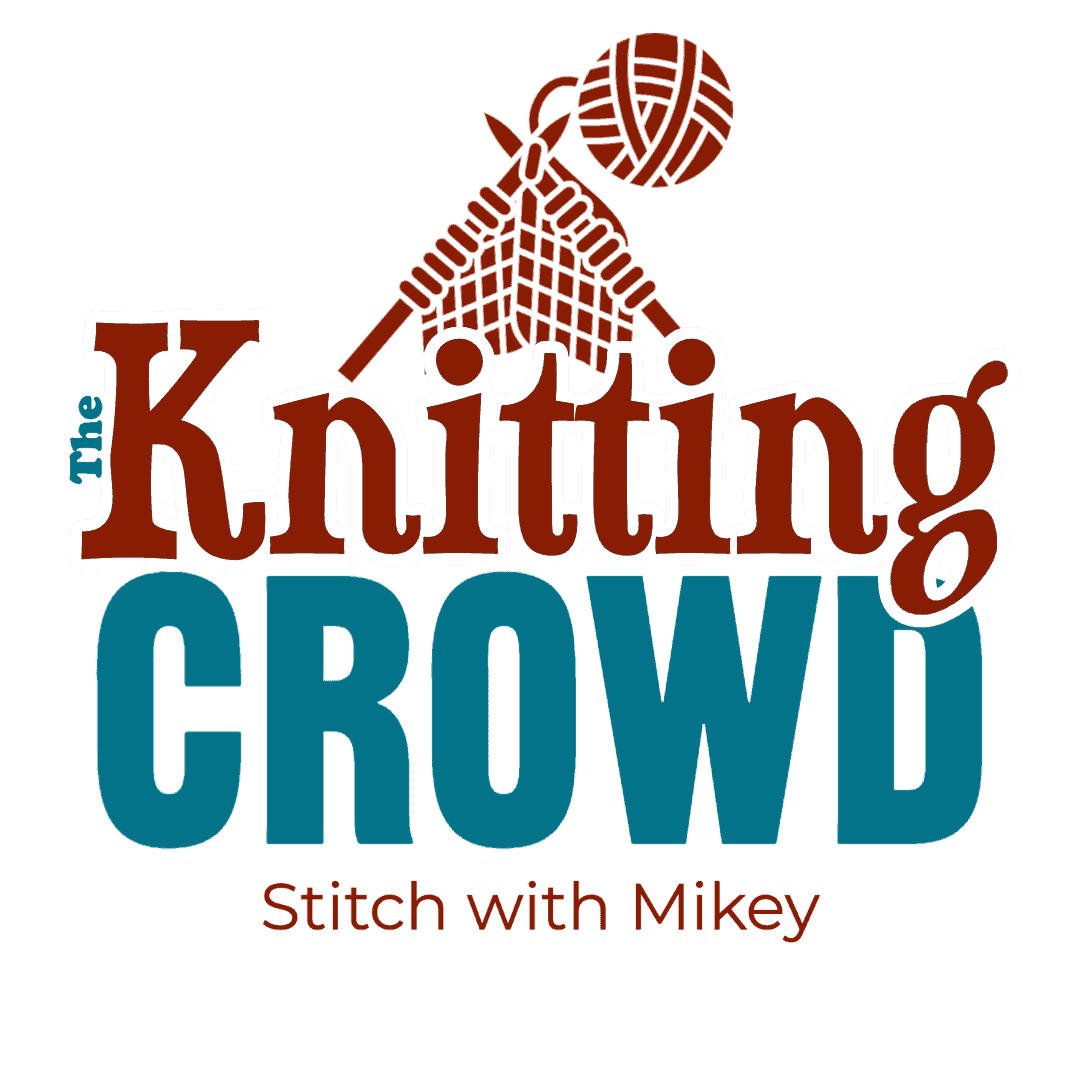 In liking how the new Knitting Crowd looked. I decided to rebrand The Crochet Crowd logo as well. Keeping the yarn balls from our past but moving forward. The colour of the word crochet is the Pantone 2023 Colour of the year.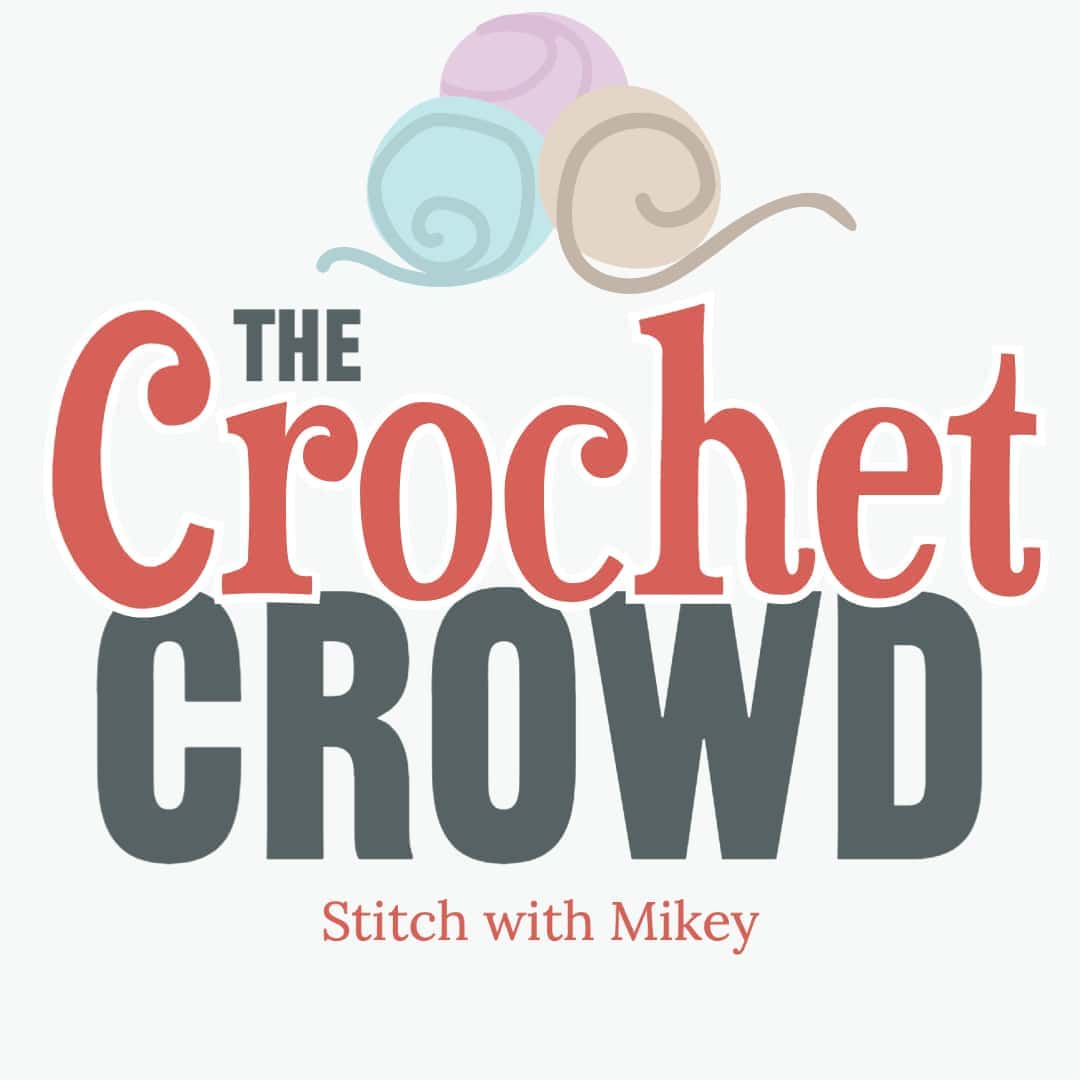 I purposely dulled down the CROWD for both logos so that the words Crochet and Knitting are dominate on things like our merchandise. It makes the main topic jump off with everything else being secondary.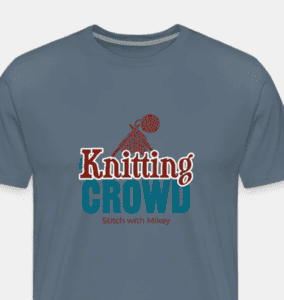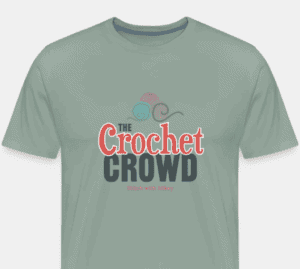 Truth be told, I think I needed to rebrand for my own personal growth.
I lived my truth of being the Stitcher's Journey. Would I have predicted I would learn to knit this year? Hell no, it wasn't on the horizon. One moment led to another.
---
What Does 2023 Look Like?
I'm really not sure. That's what's exciting about it. The journey never ends. I still have to sort out my role in the video content sector as I feel we are on a global shift of data usage with this medium.
Daniel says the world of blogs is becoming redundant but I don't know what's next or how to get our the free patterns without it. Something is to come… maybe!?