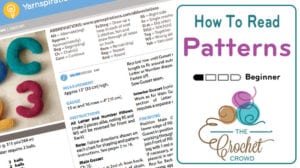 Since 2008, I have been filming tutorials and I thoroughly enjoy the process. Like anything in life, the manual process of showing step by step is time-consuming.
In reviewing comments for 2020, many people just need clarity instead of watching me do it.
Pattern Review
My goals are simple:
Review the pattern from a structure point of view.
Go through the materials list and overall thoughts of the pattern.
Then dive hard into the pattern to determine if there are potential roadblocks or tips I can add to assist.
It's now 2021, there are so many tutorial hosts such as myself. Generally speaking, almost all stitches are filmed in some compacity. They may not be grouped together to film the pattern that I am reviewing, but the resources are out there.
I will still be filming tutorials, but there are many patterns where filming a tutorial isn't required but a general walkthrough. With so many series out there of learning to crochet that already exists, this may be the next step for me to go into. I tried this back in 2012 and failed miserably. There is an expectation on YouTube that every pattern shown has a full tutorial, I feel that's not the case as Yarnspirations has 8,000 free patterns and only about 13% are actually in video tutorial format. The most popular downloads, many of them, don't have a supporting tutorial. This tells me, maybe just a walkthrough is needed.
I'm going to try this concept and see how it goes. I could be wrong but I won't know unless I try. I started practicing yesterday for this concept. The strongest goal is to not be long-winded and get to the point fast.
More Ideas
Tutorial
More Collections