Nutcrackers, Igloo and The Age of Winter Exhibits
Join us for Winter at Creativ Festival
The Crochet Crowd returns for Creativ Festival this fall with a jingle in our stitches. We've been hard at work to create one of the largest and awe inspiring crochet exhibits to date.
To celebrate Winter Wonderland with Creativ Festival, our entire exhibit is a tribute to Christmas and wintery themes. Standing on guard at our exhibit are our 8 foot tall Nutcrackers all done up with fancy crochet stitches. It's taken us 2 months to create these masterpieces. We are still not done so you will have the see them for yourself at the festival.
Even crazier is bringing a crochet igloo to the festival. Our Diva Dan has constructed a 16 foot diameter structure. If you think of Ontario Place with the big i-max ball building, picture the same structure done up in pvc and snowflakes. Crocheters from around the world have been sending in their snowflakes to join together to cover this massive structure. Our teaching classes will be inside the igloo.
If that's not enough, look for the wacky and life-like elves that will be positioned around our exhibit. To top it off, look for the large yarn tree standing almost 14 feet tall. The elves will be on ladders decorating the tree throughout the festival. Watch out for falling balls! Those knotty elves can play pranks on you!
Within our exhibit, you will be able to purchase the latest yarns by Yarnspirations as well. We will accept Cash, Debit, Visa and Mastercard.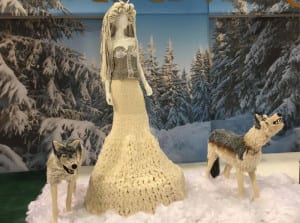 Age of Winter by Yarnspirations
To make it even more wintery, we have brought our friends at yarnspirations.com with their massive exhibit of the Age of Winter. Jump into the story of Narnia's Lion Witch and the Wardrobe in a life-size exhibit. You will be shocked what knitters and crocheters can do to bring this story to life. Without question, it is stunning and you will definitely want to bring your camera!
Highlightes of the Age of Winter are seeing the kids at the train station with their luggage and clothing all done up in yarn. See Aslan's tent during the battle scene. Be scared of the ice queen and join Mr Tumnas at the lamp post. Among the exhibit, you will find the loveable creatures that helped the kids and were part of the story. But I must warn you, the wolves are looking pretty fierce guarding the queen. Don't get too close.
Creativ Festival is looking pretty cool this year. Join The Crochet Crowd and Yarnspirations.com, just to name two massive exhibit at Creativ Festival Oct 15 – 17, 2015. All of the exhibitors are being encouraged to bring their winter and Christmas themes with them to make the entire show an early homage to winter and Christmas. Get a jump start on your Christmas projects and shopping. Join the fun, exclusively at Creativ Festival this fall.
For advance tickets for the show and/or to take part in the show's massive conference program of classes, please visit Creativ Festival's Website.