RAKS for Hope Initiative: NJ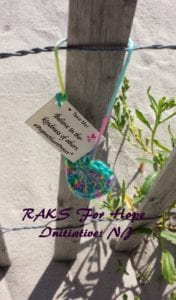 RAKS for Hope Initiative: NJ
RAKS: Random Acts of Kindness
Initiative: The start of something with the HOPE it will continue.
We are not a 501c3 organization
Raising awareness on issues of our time through knitting and crocheting.  RAKS is spreading kindness by knitting and crocheting items to donate to people in need.   
RAKS makes and collects handmade knitted and crocheted hats, scarves, baby blankets, other baby items, lap blankets, socks, slipper, etc.  RAKS is always in need of donations of yarn and volunteers to help knit and crochet for us.
We donate these handmade items to people and babies in need, close to home. 
Please visit our Facebook Page: 
RAKS for Hope Initiative: NJ
If you wish to donate hand knitted, or crocheted items, or yarn to us, please mail your donation to:
RAKS For Hope Initiative
PO BOX 118
Budd Lake NJ 07828