Crochet Projects Featuring the Popcorn Stitch
Pop Goes the World, Today is National Popcorn Day
A good movie, a big bowl of buttery and salty popcorn. Oh boy, my mouth is watering at just the thought of it. Google says today is National Popcorn Day. Who am I to question that? Guess what I am making tonight?
So inspired by National Popcorn Day, I decided to go on the hunt for crochet projects that feature the Popcorn Stitch.
Faux Popcorn Cowl  – super quick, featured above.
Blackberry Salad Striped Baby Blanket – might be more of a bobble, but still fun.
Funky Boots – this is a must see!
Grandma's Heart – fun using this one is many ways.
Bobble Kitchen Sponge Pattern – love how this one is folded to create a thick piece.
Crochet Popcorn Tea Cozy – love the pom pom topper on this one.
Popcorn Stitch Flower – awesome dimensional flower done in Caron Simply Soft.
Honeycomb Pop Basket – great for holding your yarn balls.
Bobbly Flower Hexagon – this pretty reminds me of a quilt that I had as a little girl.
Chubby Sheep Crochet Pattern – everyone needs a cute amigurumi sheep in their life.
Movie Munchies – Popcorn & Pretzel – this round up wouldn't be complete without a crocheted bucket of movie popcorn, just for fun!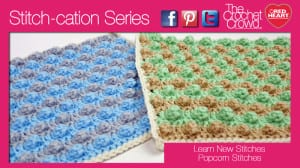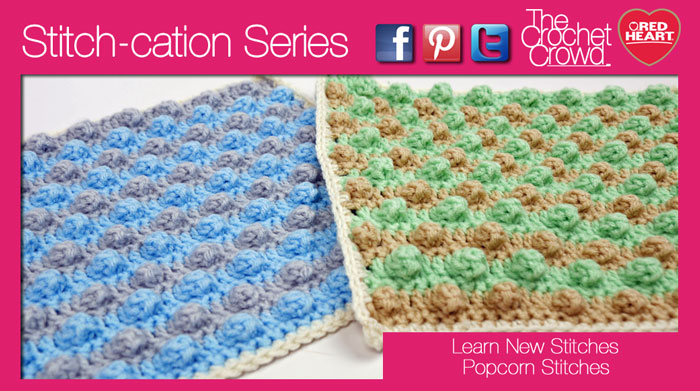 Popcorn Stitch Tutorial
Mikey has a tutorial on making Popcorn Texture Stitches.
This project was done for Stitch-cation a few years back. One thing you should know about the popcorn stitch is that the popcorn pops out the back side of the stitch. So you have to be careful on which side of the project you are working on.
For example, say you want the popcorn stitch to appear on the right side of the project, you must crochet that row on the wrong side so it pops out to the right side.
Jeanne's Kettle Corn Recipe
1/4 cup canola oil
1/2 cup sugar (I actually use 1/4 cup Truvia)
1/2 cup unpopped popcorn
Heat 3 kernels of popcorn in oil until popped.  Dump in popcorn and sugar.  Shake, shake, shake!  Salt to taste.
Best crochet snack ever!  Doesn't make your hands all messy. 🙂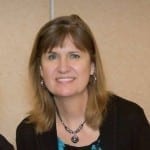 Be creative! 🙂 – Jeanne – The Crochet Crowd