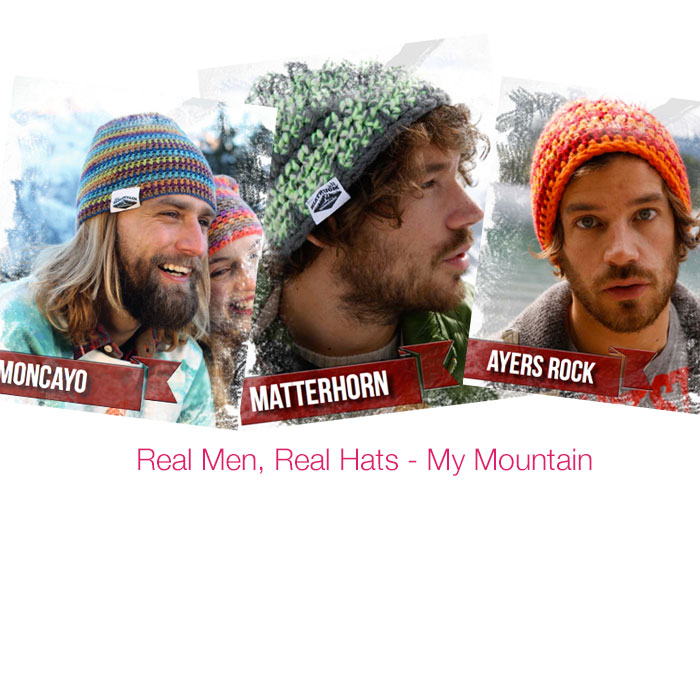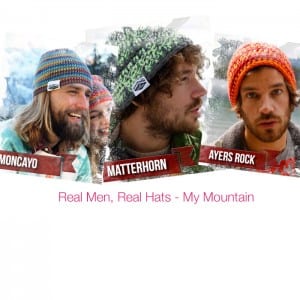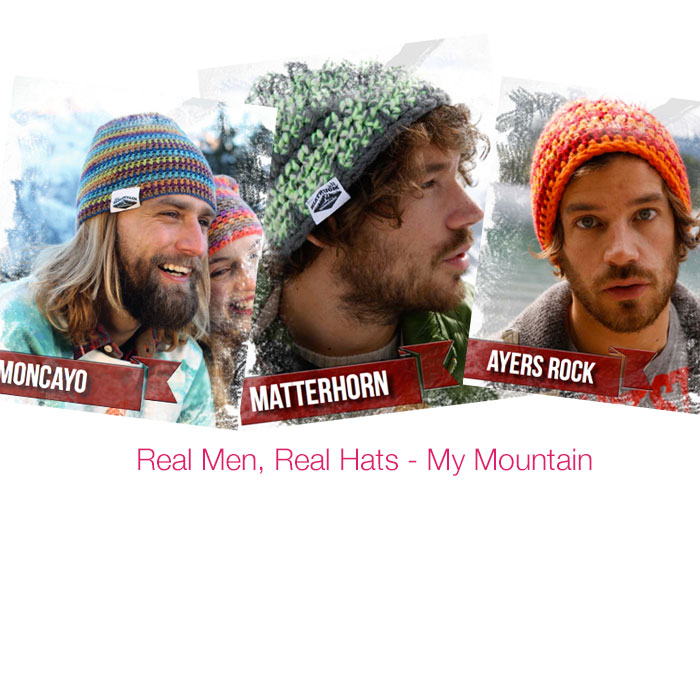 Hats for Men
Lets face it girls, our men don't want to wear our hats when they are feminine designs just in masculine colours. I'm talking about real men's patterns designed and made for men!
Let me tell you about My Mountain. Me, being behind the scenes, you will see My Mountain patterns featuring a different sort of model in all of their marketing. They are real people who use the patterns.
My Mountain is for active, trendy and fashion conscious knitters and crocheters. I kid you not, while on holiday, we seen this couple in their 20's lounging on a chair. The guy was in a handmade slouchy wearing shiny silver glasses. She was also wearing her slouchy wearing her shiny glasses. Both were extremely casual in jeans with no socks and flip flops. I told Daniel, I think we are seeing a real live My Mountain photograph here!
So today, I put the girlie patterns away and brought out 3 men's patterns for your consideration. Of course, the patterns are free to use.
The Moncayo Hat – The colour changes are part of the yarn itself called Regia Stripemania. It uses only 1 ball. Daniel and I have this yarn at home here and is is really lovely. the woman behind him is also wearing a Stripemania Yarn Hat as well. Pattern is super simple!
The Matterhorn Hat – From the Swiss Alps comes this Matterhorn Hat. Designed with warmth and practicality in colours for men. This is using Bravo Big by Schachenmayr. It uses 2 balls total, 1 each of Yellow Marl and Graphite. This hat would whip up quick!
Ayer's Rock Hat – Inspired by Ayer's Rock of Australia comes this hat. This is using 3 balls, 1 of each colour of Pumpkin, Claret and Sunshine Marl, of Boston Yarn by Schachenmayr. There is a lot of written instructions but when you break it down, it's really simple to follow along. Boston Yarn is one of Diva Dan's new favourite yarns too!
My Mountain is part of the Schachenmayr family of yarns. These yarns are typically found in independent retailers. We are used to mass retailers with cheaper priced yarn. Let me assure you that the quality, feel and colouring of yarns like Schachenmayr are wonderful to wear. There is definitely a different. If you are by an independent retailer who carries this type of yarn, sneak a feel or two and discover the difference.
Like many, I enjoy my value priced yarns for everyday crocheting. Once in a while, I indulge in something better when I know it's something special for myself or for a gift for another person.
Yarn can be a personal choice. That's one element that I love about yarn. There's something in all price levels to enjoy.