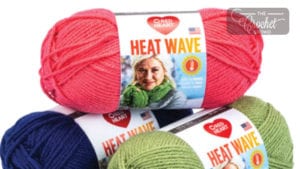 Red Heart Heat Wave Yarn
New to the Red Heart brand is Red Heart Heat Wave Yarn. It's a heat-generating yarn through natural daylight. Whether it's sunny or even overcast, this yarn will warm up to 12 degrees warmer.
What would you do with 30 minutes more of comfort on a cool or cold day outside?
It's a regular looking 4-ply yarn that you would never know heats up upon the touch and or look of the yarn. In fact, if you were a craft show vendor or providing a charity scarf or hat, you should mark the item as Red Heart Heat Wave and let your recipients know there is technology in this product.
Spun inside the acrylic fibres is an acrylic fibre that will activate in UV light. That means, if you are receiving UV light, the product will activate. As many of you know, you can get a sunburn even with overcast as the UV is going through the cloud cover, so the hat will activate its magic.
Will the heat action washout? 
No, it's a special fibre that is included with the regular acrylic that is sensitive to generate the heat. It's part of the yarn itself.
12 F degrees warmer eh?
The yarn will warm up 12 F degrees warmer depending on the strength of the UV you are receiving. Direct sunlight will create the full activation of the fibres.
Will it activate indoors? 
If the lighting in your home is giving off UV, it will activate the yarn. If you are sitting near an exposed window to natural daylight, you may feel the yarn get warmer. It will not warm-up if the outdoor light is not strong enough or non-existent.
How long does it take to warm up?
Depending on how cold it is, it will warm up to its maximum temperature in about 10 minutes.
How long does it stay warm if you go indoors?
It takes about 2 minutes to go back to regular temperatures when you go inside or stop the exposure to the UV. It needs the UV continuously in order to keep the heat going.
What are some recipients that benefit from this type of product?
Think about someone who works or enjoys outdoors and their hats aren't heating.
Someone walking a dog or even use for the dog coat itself.
Kids who are waiting for a bus, recess or general school activities. This has technology mixed into the hat which makes the hat more interesting than just an ordinary hat that is knitted or crochet.
Homeless who are outside needing the extra warmth. In daylight, they can be warmer.
Blankets for stadiums where you can sit under an afghan enjoying a game.
A sweater on that cool spring or fall day.
Applications where this project would not make a difference? 
Socks are hidden from the light.
People working in cold temperatures like freezers as there is no direct light.
After dark.
Will the yarn overheat itself?
No, the temperature increase is only 12 F Degrees. It can go a bit warmer but will not continually heat up if there is nothing to cool it down.
I've never seen No Microwave on Yarn Packaging much. What does that really mean?
Simply, don't put it into the microwave. The fibres are sensitive to pick up the UV light to activate the heat. This is not a yarn to use for applications like a rice bag or anything along those lines.
How do you wash this?
You can use a washing machine on warm gentle cycle. Tumble on low dry and do not over dry this item. No bleach or iron.
Where can I find this yarn?
Currently, the yarn is available through JOANN.com and through JOANN Fabric & Craft Stores in the USA only at this time. It may come available later on in other retailers in later 2019.
More Heat Wave Ideas
No post was found with your current grid settings. You should verify if you have posts inside the current selected post type(s) and if the meta key filter is not too much restrictive.