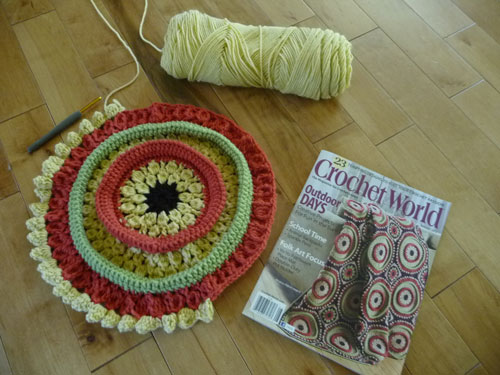 Ringtoss Afghan by Barbara Worn-Wurtz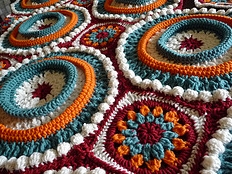 Ringtoss Afghan
I completed this afghan in August 2012. It is called the Ringtoss Afghan. It was the feature cover of Crochet World Magazine. I was captivated by this afghan and crocheted long and hard to get this done. It took me 18 days and I really pushed myself. There was a total of 20 round motifs, 12 squares and 14 half triangles. In speaking to the author, Barbara Worn-Wurtz about this design, it took her a year to come up with the pattern. The math to figure all of this out must have been daunting. 
In documenting my progress throughout doing this, I snapped photos as I went. You can see that I am a crocheter who assembles the afghan by moving all of the motifs together instead of doing them one at a time. It makes it far faster when you can grab the next motif and move it to the next step then completing and reading the directions for each motif from start to finish. 
Please note that I cannot share this pattern as it's a paid pattern. Video tutorials aren't allowed to be filmed for this afghan due to the pattern not being free and permissions by Crochet World Magazine haven't been granted.