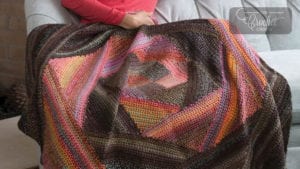 Crochet Spiral Lapghan
An afghan that I was head over heels for is this Spiral Crochet Lapghan designed by Kristin Omdahl, one of my favourite crochet designers.
Spiral Crochet Lapghan Crochet Pattern. Offered on Red Heart. It's brand new just in case you missed it.
This afghan is classified as easy in the sense that the afghan is building upon its own in triangle patches. The amazing look of using two different Red Heart Boutique Treasure yarns has our eyes spiralling up with imagination.
I love this afghan, ah who am I kidding, I love Kristin's patterns overall which makes me bias! She has a great heart to boot. Woo hoo for Kristin and this fabulous crochet pattern for us to work on.


More Afghan Pattern Ideas