What is The Substitution of Bernat Blanket Yarn?
What is the Substitution for Bernat Blanket Yarn?
In light of the new Snuggle Sack Series by Yarnspirations, we have been flooded with the same question. What is the equivalent of Bernat Blanket Yarns?
The quick answer is 4 – Bernat Super Value Strands = 1 Strand of Bernat Blanket Yarn. BUT WAIT… there are pros and cons.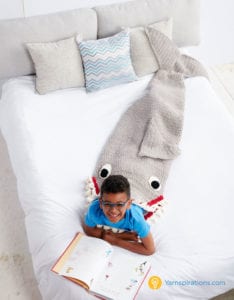 Most crocheters are wanting to substitute as a result of one of three situations:
Cost of the Bernat Blanket Yarn.
Not Able to Get the Bernat Blanket Yarn.
They don't want to use the Bernat Blanket Yarn.
Most have made assumptions that the Bernat Blanket Yarn is more expensive than multi stranding a standard 4 ply worsted yarn such as Bernat Super Value Yarn. I'm a huge believer that you should do what is right for you. What choices you make are entirely up to you.
So I put myself to the task of setting up an experiment to determine what the true equivalent is and to do a price break down to determine what is the cheaper option.
So let's review my findings.
The Substitution Experiment
Hypothesis
I think it will be three strands of Bernat Super Value.
I think the Bernat Super Value will be the cheaper option.
I think the Bernat Super Value option will be heavier but I don't know how much.
Assumptions
Bernat Blanket 300 g size is $9.99 USD
Bernat Super Value 197 g size is $4.99 USD.
Use the regular retail prices to be fair. Crocheter can make adjustments if they find the yarn on sale.
Procedure
Weigh all of the yarn balls. Including 1 extra for Bernat Super Value in the case that 3 strands are not enough.
Derive a pattern that can be done giving an accurate swatch to gauge the results.
Crochet 1 Swatch with Bernat Blanket using 8 mm or Size L that is recommended on the yarn ball.
Weigh the finished sample to determine the yardage used, costs of yarn by the yards and find out the cost of the sample to compare.
Using 3 strands of Bernat Super Value, follow the same pattern for 2 rows. If incorrect, subtract or add strands and begin again. Measure against Bernat Blanket Sample for width equivalent. If satisfied, finish the sample.
Weigh the finished Bernat Super Value Sample.  Figure out the yardages used considering all of the skeins used, costs of yarn by the yardage and find out the cost of the sample.
Results
My hypothesis was wrong with being 3 strands. It was actually 4. I had to rip out the sample and retry with 4 to get the same size.
The Bernat Blanket Sample measured 5″ wide by 4.5″ long.

Weighing 15 grams.
$9.99 / 300 g = $0.033 per gram.
201 meters / 300 g = $0.67 per meters per 1 gram.
Sample is $0.495  = 10 meters of yarn.

The Bernat Super Value measured 5″ wide x 4.5″ long.

Weighing 23 grams.
$4.99 / 197 g = $0.025 per gram.
389 meters / 197 g = 1.97 per meters per 1 gram.
Sample is $0.56 = 11.3 meters of yarn.
The winner for being more cost effective is Bernat Blanket Yarn over Bernat Super Value. It is lighter and less yardage will be used to make the same project if substituting. For afghans, it can be the difference of a comfortable afghan to an afghan that is way too heavy. 
Conclusions
While the Bernat Super Value is regular 4 ply worsted yarn, it is technically cheaper by the yardage and weight over the Bernat Blanket Yarn if you compare 1 strand of each.
Due to Bernat Blanket Yarn being Super Bulky weight and Super Value being only Medium Weight. It takes 4 strands of Bernat Super Value to equal the gauge weight of Bernat Blanket.
Bernat Super Value is more dense and not as plush. Therefore, when 4 strands are put together, it is not as plush and the project is double the thickness of Bernat Blanket. So it's technically a lot more thicker but gauge wise is the same in the horizontal and vertical directions.
Bernat Super Value is more dense, therefore not as soft. It is not as flexible and is stiff. It will not drape as nicely as Bernat Blanket.
Weight wise, for the same size. My sample was 1.5 times heavier for the Bernat Super Value over the Bernat Blanket. Therefore, when using 4 strands, you should expect the project to be much heavier. For a large afghan, the weight difference can be substantial. If the afghan is 10 lbs in Bernat Blanket, it will be 15 lbs in Bernat Super Value.
Using multi strands was a real pain as I kept dropping strands or they would jump off the hook as I tried to crochet. Many stitches, I had to stop and collected dropped strands. It wasn't fun. It took me much longer to do the sample as a result of the strands snagging.
While everyone is on a budget, you can multi strand as an option if you have the yarn in your collection to use up. But if you are looking for new yarn to buy, for the Bernat Blanket Types of Projects, you are better to buy the actual yarn then to substitute. Again, that's assuming the yarn is not on sale that you are substituting and is the equivalent for yarn density.
Run Your Own Gauge
If you want to know what other yarns are equivalent, you can run your own tests to see. Do a mini sample square using Bernat Blanket and use multi strands of another brand to find the same gauge. Once you get it, you know what you can use.