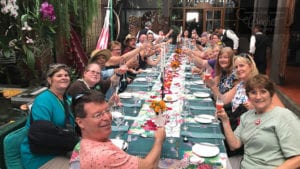 Panama Crochet Cruise
For two weeks, we travelled with 113 crocheters plus their family and friends making a combined party of 161 travellers. It's a lot of people from various walks of life. Each of us has our own stories from home.
Finding Their Tribe
One of the hardest elements for an event like this is the worry that you will not make any friends or connect with anyone in a meaningful way. In many ways, this is a vacation and several people use the time-out to recoup, reenergize and let some of their troubles stay behind to release them from the daily emotional struggles they may face. For people to step forward and find the right connections can be overwhelming. Some cruisers crave the need to find new friends, others just go with the flow. Some just prefer to be left on their own and beat to their own drum. What is right for one person, can be completely different for another.
Mystery Challenge
Many cruisers were out of their comfort zone with learning the mystery challenge. I mean, how do you choose the right colours when you are unsure what you are making? We kept it a secret and revealed it by the time Clue #4 came along. The clue revealed there is a snout, nose or a beak. So they finally got a sense of direction. For most, they were super excited but also reminded that what they do with their mystery is up to them. Maybe they don't want a sheep, pig or rooster. For many, they just did their own thing. You could hear ideas being exchanged and see people getting super excited when a cruiser would finish something unique. I never considered a frog, spider or fish to be made with the clues. Creativity is a beautiful thing.
I bought the original 3 designs from the designer. So I own the rights to distribution of the pattern. A few mistakes were discovered, so I have to fine-tune the pattern again. I plan on doing something with the patterns in the future. You will have to wait and see. Some crocheters are inspired to do something right away. We love the enthusiasm, perhaps something can happen in the spring.
Sponsored By
Thanks to JOANN Fabrics & Crafts for their sponsorship this cruise. We were able to make a charity difference. Cruisers were super inspired by the colours given. Some continued on with our program with the assignments while others felt the yarn could be something else. Again, creativity is unlimited and we love when cruisers reach into their hearts and create something they will enjoy all the more.
We had a very memorable 2-week crochet cruise. Many of us laughed a lot in connecting with others.
Added Perks
With our agent on board, she was able to get extra perks for the cruisers that were not originally in our plans. Also, Celebrity Cruise Lines also had optional opportunities that were unexpected.
We rented the night club for a Halloween Party. (Compliments of our Budget)
We had group access on one of the final days leave Cabos San Lucas. (Compliments of Celebrity)
We had a Kitchen Galley Behind the Scenes Tour. (Compliments of Celebrity)
Showcase Display of our finished characters for regular passengers to see for a 90-minute window. They provided tables and a public place to display. That's never happened as we usually set up for a photo and immediately take it down. The wonder from regular passengers was really awesome to witness.
We rent 2 cabins for Daniel and I. One for living, one for storage of materials. This time, we rented a larger cabin to hold everything but Celebrity provided a storage locker in our conference facility (which is never a guarantee) to make our lives easier to keep our products accessible and easy to set up and take down each day. It kept our living quarters from turning to a storage facility with a bed. We were very much appreciative of this.
Behind the scenes, the tour was a partial existing tour, worth $50 per guest. That's an over $8,000 value compliments as they usually charge for this tour. Celebrity really delivered excellent customer service. While we usually get the best possible service, sometimes, like this cruise, the services go beyond our expectations.
We did have one hiccup:
We did have one skid of the seven fall during transit. Unfortunately, 2 boxes went missing and were not delivered to the ship. Like giving your airline your baggage and you wait at the carousel to pick up, you don't know if your luggage will get to where you are or if there was a screw-up and your luggage has gone in the wrong direction.
This issue caused a problem with the Tunisian program as hooks and extension cords for the hooks were in the box. It's the only time I would say, I wish it had been a yarn box go missing. Daniel and I have placed a new order for hooks and extension cords again and will be waiting for those to arrive. Once they arrive at Jimmy Beans Wool, they will start mailing those out once the crocheters onboard make their accounts with their ship-to address. Jimmy Beans has everyone's name and information to verify they were a paying crochet cruiser so they can get their stuff. Daniel and I are covering the shipping costs to each cruiser as well.
It's unfortunate but when there's a ship, if your product goes missing, it's nearly impossible to deliver when out at sea. Unfortunately, the lead time to reorder was several weeks and couldn't be emergency shipped to the next stopping locations for this cruise.
'Ship' happens. Dela was still able to teach stitches and hopefully, the cruisers will pick up on the Tunisian once the rest of their kits arrive. They have video tutorials to reference on our YouTube channel to remind them of what they learned.
Finally
Thanks to JOANN Fabrics and Crafts for your help to assemble our products together. Your partnership is invaluable. Extra special thanks to Yarnspirations as a leader in free education. Thanks to Jimmy Beans Wool for the organization of purchasing extra conference materials. Honourable mentions go to Sugar Bush Yarn and Clover for helping us as well.
It was a lot of fun. Crochet Cruises will continue onward as there is still space in our future cruises. See our dedicated website for details.