Summer Stitch-cation Afghan Challenge Announcement
It's Time For A Summer Stitch-cation Pact!
For some crocheters, hooking on vacation is a 'must' during the holidays. Sitting by the lake, lounging in a cottage or just traveling around, their yarn bags and projects are part of their luggage.
Not everyone has the luxury of doing a summer vacation, so for others, they have stay-cations where they take time off work and just relax.
Our team has come up with the Summer Stitch-cation where crocheters, regardless of what they are doing this summer, they can relax and have crochet as part of their activities.
The Pact
Starting July 1st, 2014, we will present to you the pattern with appropriate videos. Don't jump to any conclusions with this afghan project as we do recognize that crocheters don't like to be buried under an afghan during the summer. We have never done anything like this project before. This will be an afghan that you will cherish. This afghan has the potential to look millions of different ways which is based on your individual creativity. We have to be finished by Labour Day 2014.
This challenge, as always, is open to all earthlings. Our draw at the end is random to give everyone an equal opportunity to win.
Our Goals
We are hoping that each crocheter will explore colours to have an afghan at the end that is representative of them in some way.
The project has 10 different types of stitches. Some stitches you may or may not already know. For those who know the stitches, this will be a refresher of stitches that you may have forgotten about. For new crocheters, this project will expand your crochet repertoire. The projects will be for beginners and beyond. I do my best to try not to leave any crocheter behind.
Videos will be created to help all levels of crocheters be successful.
Due Date
All crocheters have until Labour Day, September 1st, 2014. Labour Day is the same for Canadians and Americans. You will have the entire summer to work on this project.
Materials
We are using a Size H, 5.0 mm Crochet Hook. You can substitute your hook for larger results.
We are using 9 colours. We have chosen 9 skeins of the Red Heart Super Saver 7 oz, the size you will find in Walmart. 8 Colours are in the body of the afghan with an additional colour in the border.
You can substitute your yarn, just ensure you have enough. We are hoping you will really explore with colour but like all of our challenges, you can use as many or as little as you wish.
We've Prizes for Three Lucky Crocheters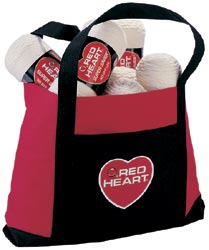 We will be awarding three Fully Loaded Red Heart Yarn Bags. You will also receive Crochet Crowd Gifts Inside.
Please join us on July 1st, 2014 as we put our 'pact' into motion and join us for an incredible and inspirational project. We are excited to see the colour combinations that you come up with.
When your friends ask you what you are doing this summer, just tell them you are going on Stitch-cation!