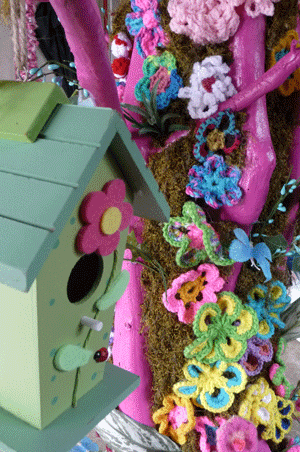 Crochet Crowd Community Tree
The final look will be revealed at Creativ Festival on April 27 – 28th, 2012 at the International Centre in Mississauga Ontario. 
In February 2012, I put the call out for help to complete The Crochet Crowd Community Tree. Diva Dan had planned on an extensive project and was looking for 1,000 flowers. Colleen, my friend, and I had done 150 flowers but were running out of time as other samples of other projects needed to be done as well.
Click read more to see how we did this.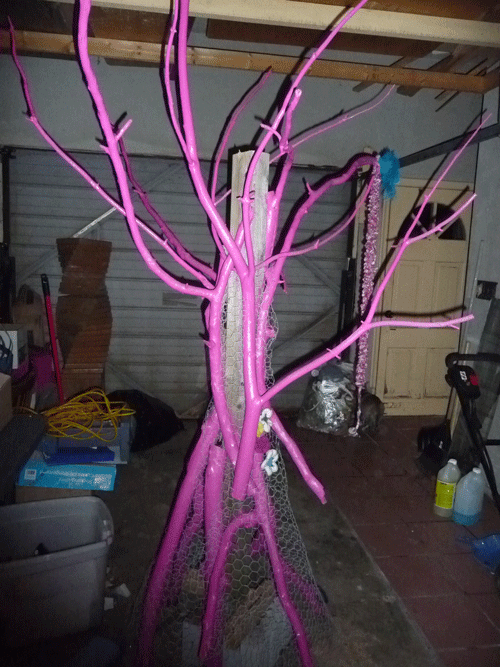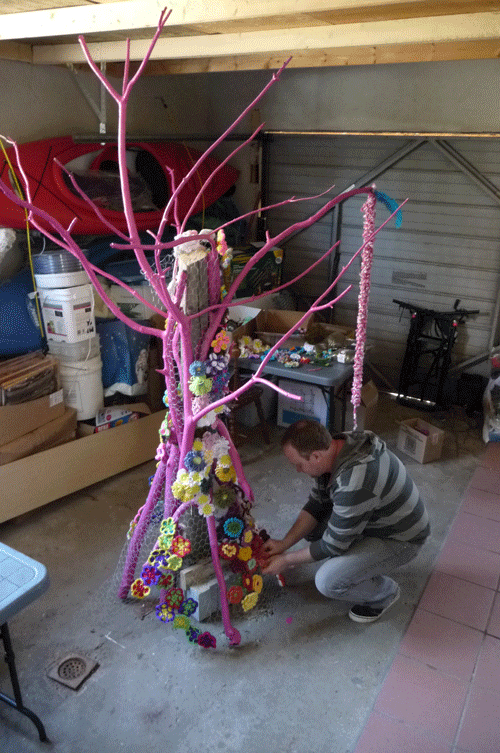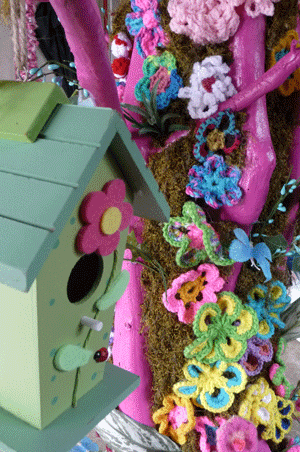 Over the course of two and a half months, flowers were trickling in from viewers around the world. Approximately 70 members of The Crochet Crowd Online Community stepped forward and mailed in their flowers. Flower donations by viewer ranged from 1 to 78 flowers for this tree exhibit. Together, we managed to get over 1500 flowers by working as a community.In appreciation to our viewers, we ran videos thanking each viewer for their contribution. Also, their name would be listed right here for helping us. We can't thank our community enough for wanting to help out as much as they did! Our display for Creativ Festival is truly a community effort. Each viewer was profiled on the exhibit in some fashion. Wether it was the tree, posts, flower mannequins and more. Extra flowers were sold for $2.00 each and raised approximately $600 for Crafting For A Cure.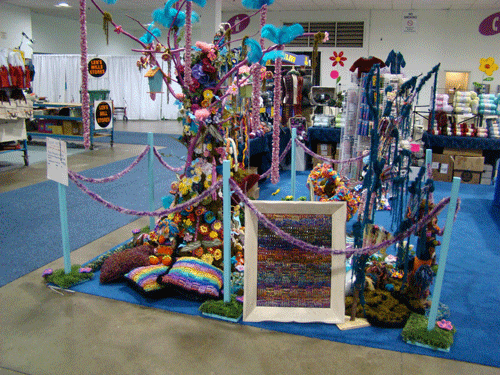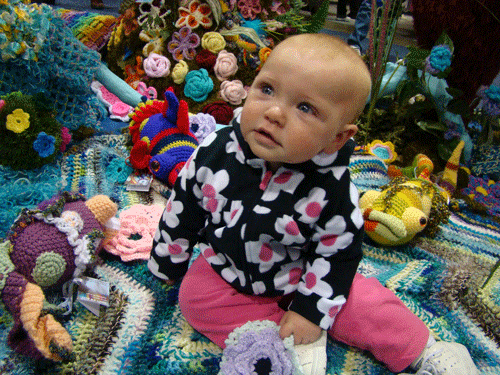 We are donated this entire exhibit to be auctioned off in pieces with exception to the AuntyK's Crochet Guyz that we had commissioned by our favourite crochet artist, Kathleen Ward from Wisconsin. 100% of the proceeds went to Crafting For A Cure. Together with the donation drive, we as a community gave $17,000 to Crafting For A Cure. Over $14,000 of this was production time, campaigning and social media awareness provided to Crafting For A Cure at no charge.  
Follow Up: What Happened To This Tree?
This tree exhibit astounded guests at Creativ Festival. The tree was requested several times to be moved to different locations to be exhibited. Our primary mission was to raise funds for Crafting For A Cure and we honoured this commitment instead of keeping it and moving it around to different locations. There were a lot of shocked individuals on seeing this fibre fantasy exhibit take shape. As quoted by a Lens Mill Store associate, "I don't want to leave as I think I might miss seeing something!" We realized the day we were setting this up, even without guests there, that our display was going to blow the minds as exhibitors were really excited by our creation.  
Madi, owner of The Quilt Store, from Newmarket Ontario bidded the highest at $1400 for this tree. As one viewer commented, when they seen a zoomed in picture of the tree without the final reveal, the tree is pure happiness. Madi felt the same way. Madi's mother passed away in 2011 and this tree was a representation of happiness and connection with her mother. She wanted this tree for her store to represent her mother's presence and love.
This tree is now on public display for all to see at The Quilt Store in Newmarket Ontario. We thank Madi for her substantial donation to Crafting For A Cure. We all were very touched by her story and symbolism with our creation.
In the hundreds of personal talks we did with guests about this exhibit, we acknowledged our community for this tree. This, after all, was The Crochet Crowd Community Tree. Without the 70 contributors to this project, it wouldn't have been possible. We thank everyone who participated in making this a memorable and worthwhile experience.
1,000 Flowers Were Needed – Look Below To Who Contributed
1540 Flowers Collected
Community Members Who Contributed – In Order of Date Received
150 Flowers – Colleen Barden, Ontario Canada
50 Flowers – Michael Sellick, Ontario Canada
31 Flowers – Laurie Clune, Ontario Canada
15 Flowers – Jasmin, Ontario Canada
24 Flowers – Cartmill, Alberta Canada
5 Flowers – Carol, Ontario Canada
2 Flowers – Sharon, Ontario Canada
5 Flowers – Sandi, Indiana USA
12 Flowers – Daisy, Pennsylvania USA
6 Flowers – Pam, Mississippi USA
6 Flowers – Chrissywear
10 Flowers – Jo, Alberta Canada
50 Flowers – Daisy, England
6 Flowers – Liliana – USA
53 Flowers – Holly, New Jersey USA
13 Flowers – Elaine – Conneticut USA
10 Flowers – Heather, New Jersey USA
5 Flowers – Jennifer, West Virginia USA
50 Flowers – Sherry, Ontario Canada
25 Flowers – The Happy Capper, Michigan USA
20 Flowers – Dessirree, North Carolina USA
3 Flowers – Jacqueline, Malta Europe
1 Flower – Elaine, Georgia USA
53 Flowers – Nixie, Texas USA
60 Flowers – Melissa, Ontario Canada
40 Flowers – Carmella, Ontario Canada
18 Flowers – Natalie, Idaho USA
18 Flowers – Liz, Australia
37 Flowers – Laurie, Ontario Canada
12 Flowers – J. Anderson, Newfoundland Canada
11 Flowers – Patricia, Ontario Canada
10 Flowers – Leasa, Ontario Canada
12 Flowers – Julette, Ontario Canada
5 Flowers – Diya, Ontario Canada
2 Flowers – Linda, New York USA
12 Flowers – Wendy, Louisianna USA
78 Flowers – Val, British Columbia Canada
34 Flowers – Gillian, California USA
1 Flower – Stacy, Mississippi USA
15 Flowers – Regina, North Carolina USA
10 Flowers – Eilleen, Maine USA
13 Flowers – Lisa, Oregon USA
4 Flowers – Jenni, Missouri USA
11 Flowers – Vivien, Indiana USA
28 Flowers – Syl, New York USA
15 Flowers – Beth and Sue, Ohio USA
10 Flowers – Elsa, Texas USA
55 Flowers – Christine, USA
19 Flowers – Diana, Tennessee USA
5 Flowers – Cathy, Ontario Canada
11 Flowers – Kari, Kansas USA
13 Flowers – Paula, Ontario Canada
8 Flowers – Gerri, California USA
13 Flowers – Maria, Phillipians
14 Flowers – Kathleen, Wisconsin USA
31 Flowers – Janie, California USA
10 Flowers – Bobbie, Ontario Canada
22 Flowers – Laskshmi, Alberta Canada
9 Flowers – Bambi, Alberta Canada
4 Flowers – Jennifer, Ontario Canada
9 Flowers – Amy, Alabama USA
7 Flowers – Nancy & Amanda, Ontario Canada
19 Flowers – Karen, Ohio USA
40 Flowers – Brandy, Missouri USA
25 Flowers – Daisy, Pennsylvania USA
33 Flowers – Cindy, Bambi, Jordyn, Alberta Canada
33 Flowers – Kathy, Georgia USA
16 Flowers – Milanie, California USA
You're Next