Tips for Online Yarn Shopping
Tips for Online Yarn Shopping
Retailers
Most crocheters know that retailers where you can go, whether it be Wal-mart, Michaels, AC Moore, Joanns, Meijer and more have limited shelf spaces. This limits them from purchasing an entire line of brands and all colour shades associated to it.
For examples, Yarnspirations makes over 80 brands of yarn. With all colours in each of the brands, there is over 3,000 choices for this one maker of yarn. Think about other makers such as Lion Brand, Red Heart and a few others, there's a lot of yarn for retailers to choose that should go on the shelf. They cannot pick it all. Yeah I know, it would be nice right?
Retailers tend to pick the most popular colours to appear on the shelf because they will sell faster. The decision on what yarn appears is corporate and not generally by each store location. This simply means the associates cannot just change a brand or order a brand that they don't already have in the distribution centres. Let's not deny that a store needs product to turn over quickly in order. This is where online shopping can come into play.
Online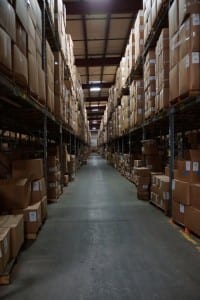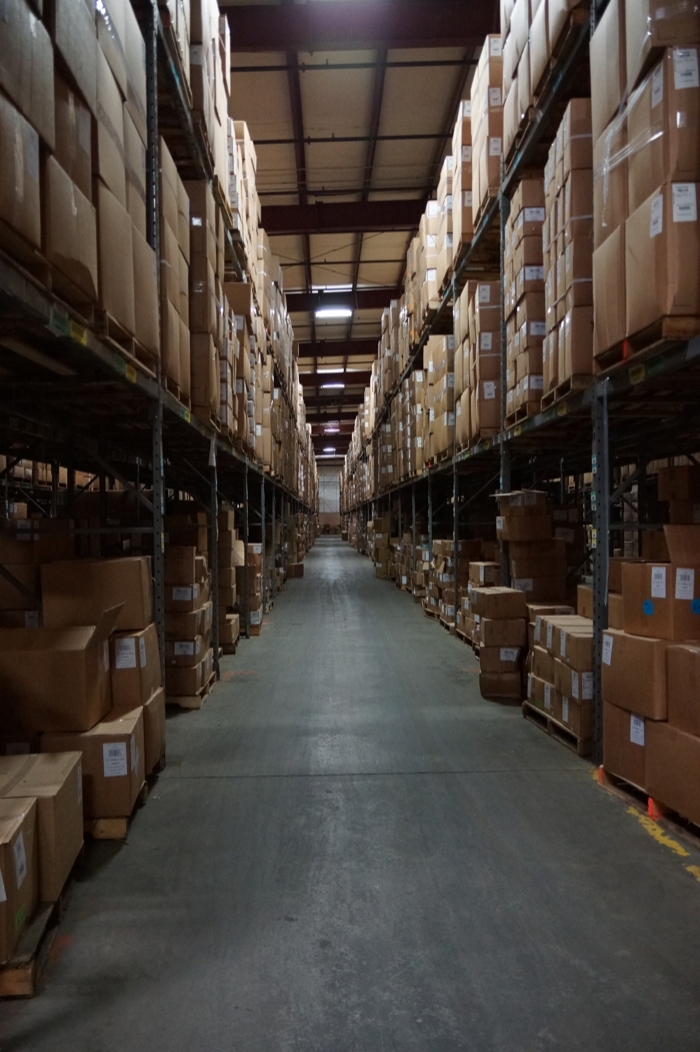 With the Online Market of Yarn. The warehouses are vast. Attention to the consumers is secondary. Meaning they don't have pretty lights, signage and everything you would expect a store to be. Their store front is a website and behind the scenes the warehouse crew pick orders that come in and get it ready to ship.
Yarn is in boxes and generally the yarn is sealed in bags of 3 – 10 balls per bag. Many of the massive retailers also provide online shopping even though they have real brick & mortar stores. For those who are not within a reasonable distance of the store or the store isn't carrying a particular colour but is available through their website, this is where it comes in handy.
Why Online Shop?
When a retailer isn't carrying a particular brand or colour, the online shopping world allows yarn to be fully accessible to you. You are no longer limited by the retailer on what products you can use. The world has become your shopping store through the online world. You can have that yarn that you may see another crocheter use that you might have seen on a community or through websites like Pinterest.
Yarn is Tactile
For many crocheters, they like to look, examine and feel their yarn prior to purchase. It's not uncommon and I am like that as well. However, I don't allow that to be my only decision to purchase yarn that I have never tried before.
I rely on testimonials of people who have used the same yarn.
I am inspired by the projects seen with a yarn line.
What I do is take a 'chance' of ordering something to try. I buy something else I trust but throw in a choice that I am curious about. I don't buy a lot of the 'chance' yarn but I do so I can see it because I cannot find it local to me here.
Tips for Online Shopping
Ask Friends or Yarn Users for Referrals
Testimonials are huge in this area. If you have a friend you trust, they are not going to steer your wrong if they have had a great experience.
Use testimonials as part of your decision because your friends may not have the same interests or desires to work with the same yarns you do.
Find Trustworthy Sources of Online Websites
Rely on websites that are high profile in the yarn world. These companies have invested 10's of thousands of dollars into website programming, distribution and much more. They take consumers seriously and usually have customer service to help when needed.
Watch the Currency
Check the currency of the website. You might be shopping on a website requiring Euros when you are in the USA or Canada.
Nothing is worse than seeing your credit card statement and realized you have paid more than expected because you thought the currency was different and the prices looked too good to be true.
For USA to CDN Currencies, even though the exchange rate is constantly fluctuating, many times the prices, especially when on sale, are still better with the currency factored in. Many crocheters make the assumption that the prices are way too high on the assumption of currency exchange without physically checking on a calculator. Crocheters miss out on great deals based on fear or assumptions without checking and realizing there's still a great deal.
Check Customer Service
Most yarn based websites have social media and some have testimonials where consumers can leave feedback. If a company is struggling, you can usually tell in social media that there are issues.
The key element here is if the complaints are being addressed by the company or just sitting in limbo without the company responding. Avoid online shopping websites if the social media complaints are being ignored. If you experience a problem, you will be one of those consumers that will be ignored on social if you have a problem.
If the company is publicly responding, see how they are communicating. Most like to deal with the consumer one-on-one so it can be quickly resolved.
Complaints left by consumers have to be weighed by the way they speak. For example, "Your yarn is crap!" That is not a testimonial or a review. That's not a constructive review and shouldn't be taken seriously.
7-10 reviews will be negative because we humans have a condition to only leave feedback when we are unhappy. So you have to realize there is going to be so many more people who are happy but have never said so.
Problem Resolution
This is one of my biggest beefs of the online social media in today's era is the way we humans are now communicating with companies. I have seen far too many people rip into companies and leave incredibly negative feedback on social media without giving the company an opportunity to know about it in advance or a chance to fix the issue.
Most companies have not moved to having social media as their primary customer service or consumer relations.
For whatever reason, consumers think by leaving a terrible review which helps damage the reputation that they are going to be taken more seriously. It puts the company on edge and hurts the company and in many cases, it's unfair when the company is blindsided and put on defensive mode.
Companies should have customer service that is either accessible by email, real mail or even a phone number to call in. In many cases, the social media is part of marketing of a business, not the customer service department. Many people today have moved to try to solve disputes through Facebook for a company when, in fact, they should be using the customer service contact information that is on a website.
Many consumers have moved to email to contact companies instead of physically calling the company. Today, emails can be diverted by filters and never reach the company. If the email isn't being responded to, 9 – 10 times, they haven't received the email. Pick up the phone and call the company.
3rd Party Websites
In today's era, there are more people selling yarn online than who actually do not have a physical warehouse or customer service. They have a website and the yarn is being sold through them but is not actually from them. They are a middle man in the grand scheme of things.
These types online sellers are known as Affiliates. They receive a commission from the sale but are not directly responsible for the money processing or shipping. They are merely a port hole online.
For 3rd Party Websites, check their online social media or any reviews prior to making a purchase.
Fraudulent Websites
In the history of The Crochet Crowd, we have only stumbled across one fraudulent website in our 8 year history. Long story short is that people asked about the seller. Everything on the website looks legit and you have a sense of trust. However, their social media had months of people complaining about not receiving their orders with no response from the company. Most of the responses claimed the company wasn't answering emails.
In checking the customer service area of the website. They had no contact information for a physical address or phone number. They had a generic Hotmail email to contact them at. It turned out the company was accepting orders but not delivering. People were losing their money.
When making an online purchase, be sure to check to see if the website is providing contact information. Reputable sellers shouldn't be using generic emails.