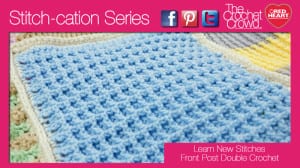 Waffle Texture
This stitch shocked Diva Dan and I half to death once a sample was made. The original photo of this stitch does this no justice. We made it in a different colour as you see the photo and boy... oh boy... does it look sharp!
The concept is so simple and creates such a striking appearance. If you are looking for deep pocket-looking textures, this may be calling your name.
Get the free written instructions, it's called Front Post Double Crochet Square.

To Make Different Sizes

Multiple of 2 sts + 2.

Remember the + number at the end of the sentence means that you are to add chains at the very end to maintain the pattern as written.
Video Tutorial