Washing Instructions with Caron Cakes Experiment
Washing your Caron Cakes Project
There's been a lot of hub a bub regarding the washing instructions on the Caron Cakes. When the yarn was release, oh man… people complaining about the washing instructions and making claims based on assumptions. From this completely felting up as there is 20% wool to loosing all of its colour. People hear the word wool and make assumptions without considering all the variables associated to it.
Like most items on the market, washing instructions are usually provided as a precaution but many of us tend to ignore them and do their own thing. But the washing instructions gives assurance to the manufacturer that if something happens in the wash, they are protected as the instructions are clearly marked on what to do.
Someone crocheted a sample within a few days to try it and it came back with favourable results with washing machine and dryer. So this left us questions, was this a typical result?
Karen Price, co-owner of It's 2 Kute Amigurui designed to make a Bavarian Square Sample to give it a whirl. Not only did she wash and dry this once, she did it to the same sample 3 times to check her results. Get the written instructions here.
Karen, along with her husband Kevin, are heavy into Amigurumi and have been using the Caron Cakes for the latest versions of their Cuddler Series. You can learn more about their toy patterns on their Facebook Page called It's 2 Kute Amigurumi. Their main objective was to see how the yarn will react if people are washing their characters because they are intended for kids and you know how kids can get with treating their things. It needs to hold up to washing if the need be.
Karen's own words for how she conducted her experiment and her results are below.
Experiment
What happens when you wash Caron Cakes Yarn Project in a washing machine and toss it into a dryer?
Using a Measuring Tape. I measured across the points for the measuring of shrinkage. If the items is going to felt it will substantially shrink.
I washed in cold water on regular cycle.
Results
I only stretched it out gently to square it up for each photo. The measurements stayed roughly the same. Though there are differences in the way it looks.
By time it got to the third wash and dry, it had started to felt a bit. The beginning clusters were felted more than the rest.
The colour is perfect. No fading or dulling at all. Still as vibrant as the original colour.
It had a shrunk or stretched look to it by the last wash.
The softness is pretty amazing. It felt off when wet, but became super soft when dry. After each load too. Can't say if it got softer, but I do know it didn't lose any softness.
We did not use dryer sheets or fabric softener in our machines. Soap only and dryer balls. In case this makes a difference for anyone.
We didn't take any special precautions. We didn't go the extra mile and do a gentle wash. We tossed it into the dryer on regular heat. It was washed three times and dried three times.
So the conclusion is, if you make fitted clothing, you'll need to follow the label washing instructions or at most, use the gentle setting and lay flat to dry. And don't wash it too often in the machine if you go this route, try and do hand wash sometimes if you want it to stay fitted.
If you are making a blanket for everyday use, I see no reason this can't be washed normally as long as you don't feel the need to toss it in once a week.
To make it last and get very little felting, follow the label.
So decide what use the item will have and then determine if you need to be ultra careful all the time or if you can handle the occasional machine washing and dry.
Mikey's Final Thoughts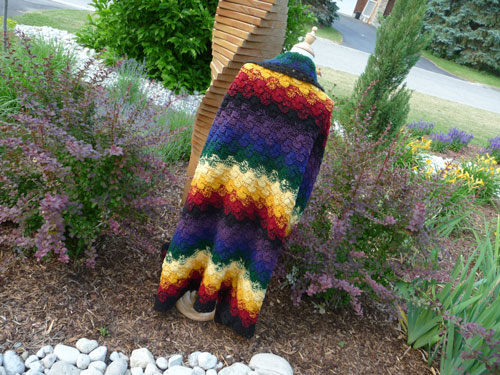 In reviewing Karen's photos. There is a difference of the final look by wash three. Keeping in mind that the item wasn't used as normal or given much time to relax the fibers before each wash. I have had this happen on regular value acrylic yarn of the yarn reducing in fullness on specialty stitches such as this. The stitches matter the most for this type of effect.
My Vibrant Catherine Wheel Stitch Afghan has the felting look up close and has been through a washing machine more times than I can count.
I would have washed this on a gentle cycle to avoid the pounding of a regular cycle but she wanted to experiment with regular washing as people may not realize to do that.
I really enjoyed this experiment as Karen is presenting you to a unique sample and telling you as it's happening instead of creating ideal conditions to make her results flawless.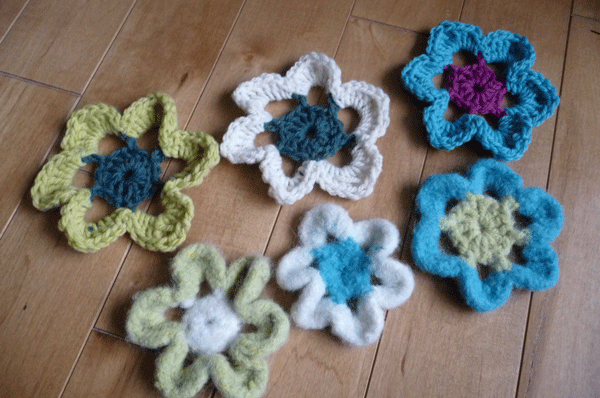 For myself, I very rarely wash an afghan, if at all. I'm just being honest. I am most impressed with the lack of colour bleeding. It was a huge assumption that I think can be put to rest.
I've also had the same results of fibers starting to blend together, aka felting, on regular acrylic afghans. The look happens as fibers are designed to attach and to hold each other. If obsessive rubbing occurs, the fibers can start attaching to the neighboring stitches. So if stitches are tight, it's possible to get that look.
As a knowledgeable person in the yarn arts. 20% wool is not enough to felt up a project. The claims where the entire project will felt like typical felting is false. If Karen would have washed this in warm or hot water, I would have expected the fibers to appear more felted as hot water reacts to wool giving the felting look.