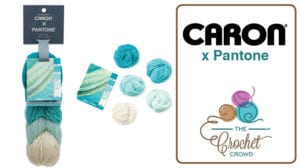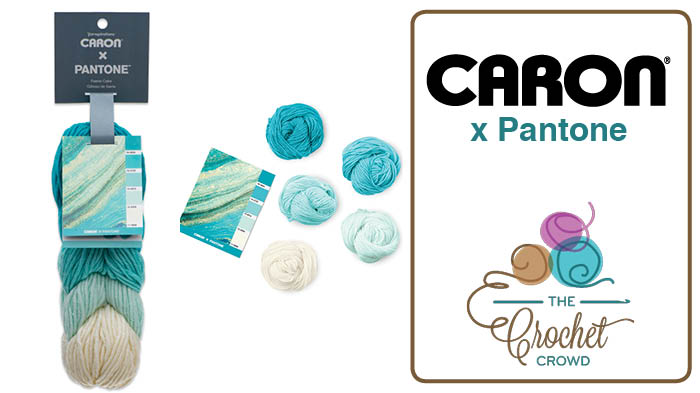 Caron x Pantone Yarn
Introducing Caron x Pantone, a new exclusive yarn to Michaels in person and through Yarnspirations.com. This is pronounced as Caron (AND) Pantone. The x in the name is branding from Pantone when there is an affiliate relationship in place.
Caron x Pantone is unlike any yarn we have seen produced at Yarnspirations. From presentation of the links to create 1 braid, to the mixture of ingredients that forms this luxurious priced at an everyday price.
The Purpose of the Relationship between Caron and Pantone
Pantone is about seeking best colour trending options. Over 10 million designers globally access the information from Pantone for the best shade mixes. In fact, it takes 2 days in a conference to decide the colour of the year. Colour is a big deal as it can make or break a visual image through presentation.
For example, if you paint your living room Barbie Pink verses Neutral Colours, your friends will react a certain way when they see it. They will either love it, be on the fence or hate it. Colour is everything.
Each ball has an inspiration on the picture that is dictating the colours in the braid. In fact, it's giving you the exact same Pantone colour that goes with it. It's about precision from expert colour designers. You may not realize how much Pantone is part of our lives.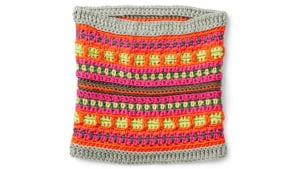 Braids
Most of the braids are precision colour mixes. Some of the more popular colours are solid braids so you can go further with the solids and add in other braids as options.
By switching around the colours, you can have what seems like endless possibilities on what a project can look like. It's pretty neat.
Each colour inside a braid is called a LINK.
Colour Play Tool
New to Yarnspirations is the Caron x Pantone Color Play Tool. A new tool for Caron x Pantone Patterns where you can change the colour of the project with the tool by switching out braids. You can also switch the colour orders and get a new written pattern for the changes you make. It's completely customizable for your desires.
Yarn Content
This yarn is a mix of Merino Wool, Nylon and Acrylic. As many know, Merino Wool is one of the high levels of quality for wool. It provides the shine, softness and stitch definition inside this product. Nylon has been added to this product to provide durability and extra strength. This means, the product will be very long lasting and resistant to general wear and tear. You cannot break the yarn with your hands as it's so strong. The mix of acrylic adds for volume and brings down the price to the everyday value priced.
Content: 60% Acrylic, 20% Nylon, 20% Merino Wool
Ball Size: 100g/3.5 oz, 116 meters / 127 yards
Care: Machine wash and dry
Gauge: 5 Bulky
Knitting Gauge: 15 sts and 20 rows with a 6 mm knitting needle
Crochet Gauge: 12 sc and 14 rows with a 6 mm crochet hook
Recommended for: knit & crochet garments
4" x 4" (10 cm x 10 cm) 15 sts and 20 rows with a 6 mm knitting needle
 4" x 4" (10 cm x 10 cm) 12 sc and 14 rows with a 6 mm crochet hook

Recommended Knitting Needle: 6 mm

Recommended Crochet Hook: 6 mm
Gallery
Caron X Pantone - Violet Mineral

Caron X Pantone - Tree Rings

Caron x Pantone - Terrarium Green

Caron x Pantone - Spicy Blossom

Caron X Pantone - Strawberry Chill

Caron X Pantone - Summer Forest

Caron x Pantone - Coconut Cream

Caron x Pantone - Faerie Cakes

Caron x Pantone - Fresh Blush

Caron x Pantone - Frozen Berry

Caron x Pantone - Fuchsia Foliage

Caron x Pantone - Midnight Run

Caron x Pantone - Moody Pumpkins

Caron x Pantone - Morning Bliss

Caron x Pantone - Mushroom

Caron x Pantone - Ocean Surf

Caron x Pantone - Olive Oil

Caron x Pantone - Peacock Blue

Caron x Pantone - Pewter Gray

Caron x Pantone - Provincial Lilac

Caron x Pantone - Purple Mist

Caron x Pantone - Purple Plum

Caron x Pantone - Raven

Caron x Pantone - River Rock

Caron x Pantone - Blueberry