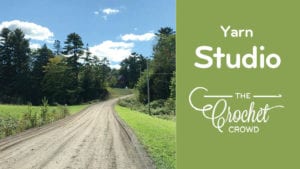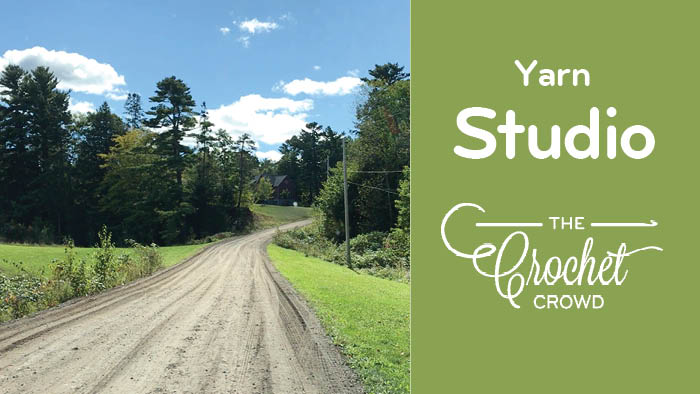 Nova Scotia – The Crochet Crowd Studio
The Crochet Crowd Studio is located in the village of Greenwich, Nova Scotia. In spring 2020, the studio was converted back to being the filming location and working space of The Crochet Crowd. All yarn that was in the studio was sold off.
The studio walls will be reset with yarn that is part of our personal collection. This yarn is used for tutorial creation and yarn we have collected over the years.
The Crochet Crowd Studio is closed to the public. However, once COVID-19 is under control and understood, our weekly group meetups will resume. There is no sense of timing on when that will be.
Our home is positioned in a tourist region of Nova Scotia, in the heart of the Annapolis Valley of orchards. In fact, there are approximately 20 wineries and breweries around us. Backed by Acadia University drawing in people from all over the world.
Introducing our Studio
Yarn sales have been discontinued from the studio. 
Our move to Nova Scotia was a personal one and with our company in mind. Repositioning ourselves into a community that is diverse, accessible and thriving in arts. The yarn arts are no stranger to this part of Canada. In fact, there are 4 locations to buy yarn surrounding our home.
The Crochet Nutcrackers
So I kept going over the idea of Stitch Socials at our Yarn Studio on our property. It would be nice for a weekly social. The Crochet Nutcrackers have been returned from the National Arts Centre in Ottawa. It's now in the studio and available for viewing when the studio re-opens for stitch socials.
Daniel's idea hits my heart hard. I love sculpture making the most in crochet. However, it's better to have a team of people based on size and timing. The recognition after a sculpture is done is undeniably rewarding. People who view the sculptures are in awe.
Pattern Suggestions
With Any Stitch Social Gathering
Our concept is for experienced beginners and beyond. With any stitch social gatherings, we have done. You learn a lot from sitting with other crocheters. Our groups that attend our events are usually very energetic. Our goal is to have fun and do something amazing together as a stitch community.
Most of our events are not local but in other regions as we travel.
Crochet Pattern Ideas