World's Biggest Christmas Stocking: New Record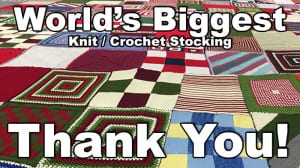 World Record Broken
Yarnspirations and along with 830 men and women helped to crochet and knit the World's Biggest Knit / Crochet Christmas Stocking. See behind the scenes photos.
The call went out to crocheters and knitters starting in January 2015 to begin to make 36″ squares for the stocking. There was no limit to how many you could submit. The designs were open to interpretation for people to do.
Here is a list of 10 Crochet Square Designs. The 36″ square are perfect for baby afghans.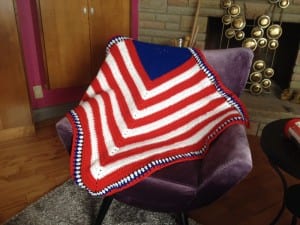 I even designed one of the squares that people could use called the American Flag Baby Square.
More About the Stocking Stats
830 Knitters and Crocheters Got Involved
960 Hours to Hand Sew the Blankets Together – 40 Days
Blankets Came in From All States of the USA
Afghans Came in from 4 Canadian Provinces
288 Skeins of Black Yarn were Required to Sew Together Squares
The Stocking is a completely usable stocking. To see all squares, the stocking must be flipped over and photographed on both sides.
The Stocking is 76 Feet Wide by 136 Feet Long
The Stocking Weighs 1,640 lbs.
The charitable yarn that was suggested is the Caron United Yarn and can be found online at Yarnspirations or Michaels Stores. Crocheters and knitters were allowed to substitute yarns for their submissions.
The massive reveal is coming out this week. Come see the stocking in Fayetteville, North Carolina this coming weekend. The Caron and Yarnspirations Team along with Daniel and I will be live on location for event. See event details here.
So now that stocking has broken a record, the stocking will be on exhibit this coming weekend. It will then be taken apart. Each square will be cleaned and then donated to those in need.
Christmas in the Park Planned Activities
See The World's Biggest Stocking in person
Meet Mikey and Diva Dan of The Crochet Crowd
Other exciting events that are taking place at Christmas in the Park:

Photo with Santa
Marshmallow Roasting
Train Ride
Craft Project
See More Behind the Scenes Photos