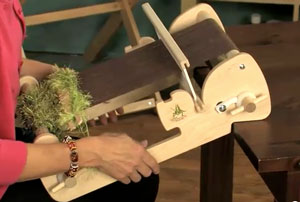 Weaving Loom Machines by Schacht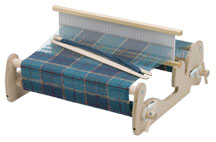 Cricket Weaving Loom Review
I ran into this product for the first time in June 2012 at TNNA in Columbus Ohio. The manufacturer, Schacht, was displaying their products and giving demonstrations on how to use them. They had done a remarkable job in marketing this product as 20 of these machines were displayed on the show floor at various yarn companies where the yarn companies had samples of their products in process in a loom. I was intrigued.
My Experience with Looming
When I was a kid, I had a plastic toy loom that resembled this but didn't have the capabilities to do longer scarves. In fact, if I wanted a scarf, I would have to do it in 5 pieces and sew them together. At the age of 10, my school teacher had a professional loom to show us how to weave. It was our punishment to weave on the loom to settle down but for me, it was very exciting and interesting. I had my parents buy me a loom, which was the cheap plastic kind that warped as you did it, plastic would fatigue very quickly. Unfortunately for me, a couple school bullies grabbed my loom after show'n tell and snapped it in half. I was devastated.
In my adult years I have been looking for a loom. Occasionally I would Google it and these monstrosities of a huge loom would come up in the searches. Floor looms that were way too big and prices that I wouldn't be able to match. Finally in 2012, I ran across this machine for the very first time and I had flash backs of my childhood. I had a rep from Schacht show me how to use the equipment and I was instantly remembering my childhood in the joy it gave me. However this time, the machine is made of wood and isn't a toy. The price point was reasonable and without further delay, I ordered a 15″ Cricket Loom by Schacht on the spot.
Selecting the Right Loom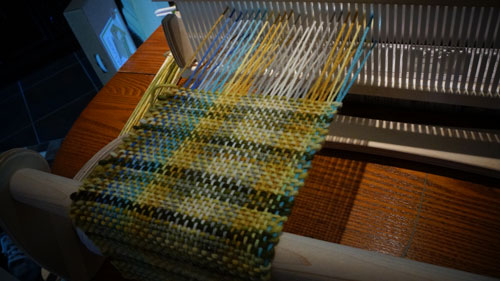 Buy This Loom Online – Ensure Size of Loom is Correct
Schacht has a number of looms from table top sizes to stand alone weaving machines for those wanting to push creativity through weaving. For table top looms, there is a 10″ Model and in 2012, a 15″ model has come out. If you were to ask me which one to get, I would tell you to spend the extra dollars and get the 15″ model, you don't need to use the entire loom like the above picture. So if you want projects to be 12″ wide, the 10″ would be too small. You will have more flexibility and for the price point, you might as well treat yourself. I think the price difference is between $20 – $30.
Price Point of The Looms
The 10″ model is approximately $150 and the 15″ version is about $180. The looms are hand made in the USA using excellent sturdy wood. The quality of every company constructed in wood is crisp and well controlled. Some consumers have complained about the price of the loom being too high; however, would you want to spend less where components are plastic that are more prone to break or snap? For a hand made item, I think the price point is affordable and reasonable.
More Info about Schacht
While at TNNA, I had opportunity to spend time with Jane Patrick, one of the owners of Schacht. Jane has also written books that are amazing in visual and written instructions to help you find your way. Jane has also filmed videos that can be found on YouTube to give you further instructions. When I set up my first project for the first time, I had incorrectly set it up and the videos allowed me to see my error instantly. Jane wants you to be successful and gives you the tools through products and help resources to make it possible.
General Use
I have used this machine for 1 week and I am completely hooked on the end results of the level of professionalism and quality of the weaved fabrics coming off this loom. Daniel isn't one to craft very often, but this machine had him hooked as well. I will be writing tips in the tips section to help you further to avoid the mistakes I did at first.
Over All
I love this product and think the money invested was well worth the price. The quality of the equipment and instructions provided are excellent. The machine doesn't stress me out with any components that make me worry about its operation. If you are thinking about weaving, consider this product… you will not be disappointed.
Enjoy your new weaving experience.
Disclaimer:
I am not affiliated to Schacht nor have I been asked for this written review for The Crochet Crowd®. I have simply created this review for the benefit of my viewers to make an informed decision if wanting to use this product.