Annie's Attic Scrap Crochet Book Review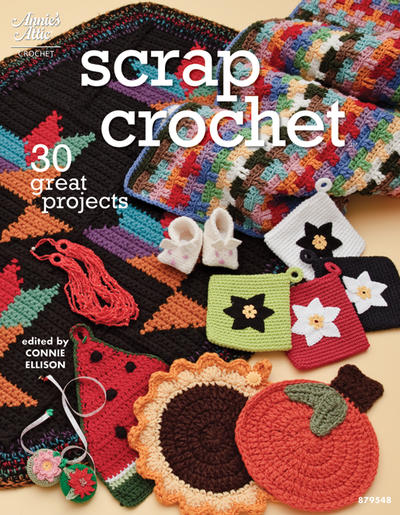 Annie's Attic-Scrap Crochet
We've all been there, buckets of yarn left over from larger projects we have done. Don't tell anyone but I think I might have 5 bins of odds and ends yarns. Not enough to make elaborate projects, but enough to make little things like what you can see in this pattern book. What appealed to me right off the bat is the colours on the cover of this Annie's Attic book. Looks like the colours of what I have in my left over bins too!
The print inside this book is large and sections are separated by full colour to make it easier to read. Large pictures of the projects so you can see for yourself what the yarn is doing. Inside you will find "Scrap Afghans" to shopping bag design to even an apron for a dish bottle. If a tea cozy suits your fancy there's that too. There is a crochet project where you will need know a bit about felting. I wear winter gloves a lot, there's a pattern to show you how to embellish your gloves to step it up from just the dollar store from where I get them to make them more interesting and unique.
There is also a "Flame Necklace" design that uses glass or resin beads that I don't think is complicated. In relative to other crafting books, I think this one is fairly simplistic for newbie crocheters to catch on and yet is still interesting for long time crocheters too!
I enjoyed this book and I am definitely going to try a couple patterns for sure!