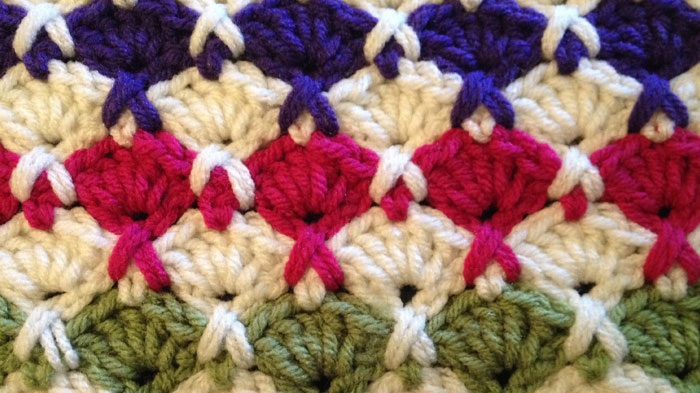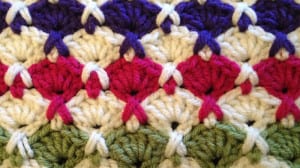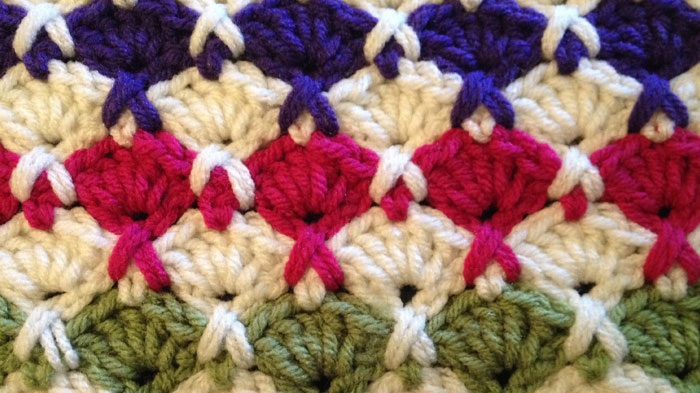 Fan Cross Stitch
The Fan Cross Stitch is a lovely play of two rows that create the incredible look that you can see. It's easy to remember and the stitches go together nicely.
I found this stitch on a fabulous afghan a couple years ago on the Red Heart Website. It's called the Juicy Fruits & Whipped Creme Throw. There is also another pattern on Red Heart's website featuring this stitch called the Cross Stitch Scarf.
The written instructions on how to do this stitch are on the two patterns mentioned above. I have provided my video tutorials below to show you how it's done. It's simpler than you think.
I figured out the math to make different sizes using this stitch. By changing the beginning chain and using the information in my chart below, you can customize your own.
| | | | | | |
| --- | --- | --- | --- | --- | --- |
| Mattress Size | Size of Afghan | Dimensions | Starting Chain Count | Length | Balls R'qd |
| This Pattern | Throw | 55″ x 44″ | 152 | 44″ | 8 |
| Baby | Baby | 36″ x 36″ | 110 | 36″ | ? |
| Baby | Baby | 40″ x 40″ | 122 | 40″ | ? |
|  39″ x 75″ |  Twin | 66″ x 90″ | 200 | 90″ | ? |
| 54″ x 75″ | Full / Double | 80″ x 90″ | 242 | 90″ | ? |
| 60″ x 80″ |  Queen | 90″ x 90″ | 272 | 90″ | ? |
| 78″ x 84″ | King |  108″ x 90″ | 326 | 90″ | ? |
|  39″ x 75″ | Day Bed |  66″ x 90″ | 200 | 90″ | ? |
|  48″ x 84″ |  Single Waterbed | 66″ x 90″ | 200 | 90″ | ? |
| 60″ x 84″ | Queen Waterbed | 90″ x 90″ | 272 | 90″ | ? |
| 72″ x 84″ | King Waterbed | 108″ x 90″ | 326 | 90″ | ? |
Video Tutorials Featuring This Stitch