How Expensive is Your Hat?
Let's Do A Cross Comparison of Hats… more closely… what's in your hat?
When it comes to making your hat, what do you look for in the materials that you use? Do you care? Are you aware? Do you price shop?
My friends of The Crochet Crowd, I'm a penny pincher! I won't deny it… I'm cheap when it comes to clothing for myself. I am motivated by price and the cheaper I can get something, the happier I am.
One of the biggest lessons since joining Yarnspirations is the differences between the materials in the four brands of yarn they make.
Lily – Cotton
Bernat – Primarily Acrylic and Fiber Blends
Caron – Acrylic
Patons – Fiber Blends, 100% Animal Fibers and Really Fashion Oriented Acrylic
It's not something that I have paid too much attention to in the past. In working doing some content for Yarnspirations, I have to school myself exactly what I am using and why it's being made. I've adapted myself to what the audience likes but it's based on my own likes too. I'm in the same boat as most of my followers.
Over the summer, I went and bought a sweater for this winter. For the first time ever… and I kid you not. I pulled out the label to see what the sweater was made of. I was shocked by my discovery in just knowing what the materials are.
Sweater A – $59.99 CDN made with 100% Acrylic
Sweater B – $69.99 CDN 50% wool/ 50% Acrylic
My mind started to turn and I realized, for an extra $10. I am going to get a sweater that has fibers in it to keep me warmer in our frigid temperatures. For the first time, I'm not looking at the cheaper item, but actually looking at the materials and making a decision based on the properties and other than the look of the sweater, what is a better choice. Truth be told, I couldn't tell the difference upon looking at it which one was which.
Of course, I expect wool products to be more money. It's a natural fiber with farmers and sheep involved. The supply of wool is based on the seasons of sheering. In abundance at sheer time and eventually runs out as the year progresses until it's sheering time again.
I've come to learn that animal blends and 100% animal fibers are much warmer. I'm in Mid-western Ontario, Canada. We got a lot of snow and the temperatures can freeze my nose hairs in a jiff. I have to be a smarter shopper.
In the picture above, I show Patons Classic Chunky Wool. Yes… it's 100% wool. Like any typical wool product. You will need to gently hand wash and lay flat to dry stop the felting of the wool. Available in 23 colours too.
Yes, the yardage is shorter and yes, the price is more than acrylic. But the reality is, anything made with this yarn is going to be far more warmer than typical acrylic yarn.
Granted, not all of us live in frigid temperatures during the winter. Not all of us get snow. But for us needing warmth, it's the better option. The price invested in the yarn is actually directly related to your comfort level when outdoors in the winter.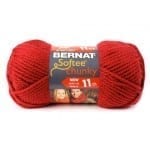 I also show Bernat Softee Chunky. This is 100% acrylic that is bulky as well. Definitely more yardage on the ball and definitely a lot of colour selections, 48 to be exact.
Acrylic is cheaper to make and can make projects a lot more affordable. You get the look of bulky wool without being bulky wool. Due to it being bulky, it will definitely keep you warm in the winter too, but doesn't have the properties of wool to really keep that warmth in if the temperatures are too low.
The Major Differences Between Acrylic & Wool
Acrylic
Definitely man made.
Doesn't generally need any special washing or care instructions.
Keeps its colour longer.
Doesn't wrinkle as easy.
Stain resistant.
Alternative to those who are allergic to animal fiber based materials.
Doesn't breathe easily so you are more prone to sweat if you get too hot.
Wool
More expensive to make as it depends on livestock for the supply.
Resistant to water.
Material will breathe to prevent you from overheating.
Will keep you much warmer than acrylic based materials.
Washing and general care is significantly more work.
What Prompted My Blog
Earlier this week, I bought a few store made hats. Based on my observation in the summer time of wool not being too far off the price of acrylic. I turned the hats inside out to read the labels. All three hats are lined with fleece and there are times when my crochet hat, and I have several in acrylic, cannot fight off the cold. I need to make more wool based hats to be inline with my new thinking.
Hat Comparisons
Colorful Hat – $16.99 CDN, 100% Acrylic. The price attracted me, the colours are neat… but then I turned the label and realized it's 100% acrylic.
Black Hat – $19.99 CDN, 50% Wool / 50% Acrylic. The price is $3 more for doing a wool blend hat.
Grey / Brown Stripe $19.99 CDN, 60% Wool / 40% Acrylic. This price is $3 more than the colorful.
So the obvious conclusion of the three hats on the shelf, the grey/brown striped hat is the warmest and for virtually a few dollars more. The decision is obvious if warmth is the highest factor of the decision.
So Let's Cross Compare on a Real Crochet Hat Project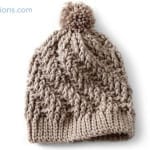 The Stepping Texture Hat is a new design using Bernat Softee Chunky Yarn.
Original Design Requires
2 Balls of Bernat Softee Chunky Yarn. 108 Yards Each
216 Yards Required
100% Acrylic Yarn
3.29 USD / Ball.
Total Costs approximately $6.60
What if we were to change our the yarn to something with wool.
Patons Iced is a wool blend of yarn.
2 1/2 Balls of Patons Iced Yarn Needed.
68% Acrylic, 29% Wool and 3% Polyester
$5.99 USD / Bal
Total Costs approximately $15
This hat will be warmer than the Bernat Softee Chunky.
How about Patons Classic Wool Bulky.
3 Balls of Patons Classic Wool Bulky
100% Wool
$8.49 / Balls
Total Costs approximately $25.50
This hat is the warmest of the three choices.
Let's Go Back to the Retail Store
While I know people will squawk at the price of the $25.50 of yarn to make a hat that could cost $6.60 if made in acrylic. When you compare what the store is selling you and the materials they are using, you can see the value of the yarn and the properties of the materials you are going to use as superior. It's all how you look at it but more importantly, what's in your hat.
For an extra $5 compared to that hats I was looking at. I get the following options:
I can design my own hat with my own hands with tons of patterns at my disposal to try.
I can use several colour choices that are unique to me instead of having 1 – 5 options on the store shelf.
I get 100% wool which means my hat will be even warmer than what the store is offering me.
I have the great satisfaction of feeling pride in knowing I made it myself.
So yes… while I could look like everyone else in the community of having the same hat from a few select stores in my town, no one will have the hat I made for myself and the specific colours I chose. To me, that is worth every penny. I'm not a sheep, I don't mind wearing sheep but I don't want to follow the sheep and be like everyone else with the same clothing and design. I can smile knowing my hat will be warmer than most hats in my community! That's just the person that I am.