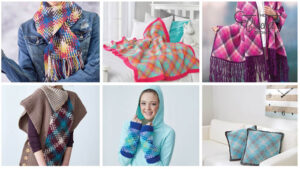 Planned Pooling Crochet Patterns
I have not yet mastered the art of planned pooling but it is definitely high on my list of things I want to learn I did try once it didn't go as well as hoped maybe next time I will follow the complete directions and not just what stitch I had to use. With these patterns, I can't wait to learn them all.  I love plaid all things plaid in all it's forms so this is collection makes me pretty excited especially the pullover.. and wrap… and pillows.. ok maybe I love them all. January in our group of yarn artists is known as the selfish month, it's the month that you take to work on items for your self, the rest of the year is always spent on working on patterns for craft shows or gifts, I plan to attempt one of these for my selfish month project.
---
Crochet Perfect Planned Pooling Scarf Pattern
This scarf is a perfect pattern for a starter project if you don't know the planned pooling method yet like me. Using the moss stitch this is an easy project so you don't have to concentrate on the stitch while your learning how to work the yarn in order to get the argyle plaid effect.
Made with Red Heart Super Saver Planned Pooling The Perfect Planned Pooling Scarf is designed by Marly Bird. If you're like me and more of a fan of the infinity scarf than the straight scarf, you could stitch the short ends together.
The first few rows of the pattern are where most people struggle but once you get past that it becomes easier and you can see the pattern starting to form.


---
Crochet Fabulous Planned Pooling Wrap Pattern
Wraps are one of my favourite creations, they are versatile and fun as well as practical when the weather is cooler and I don't quite want to wear a sweater, or if I'm running errands and don't want to wear a jacket just grab a wrap and go.
The Fabulous Planned Pooling Wrap designed by Marly Bird using Red Heart Super Saver Planned Pooling and Red Heart Super Saver for the trim and fringe. If you're still unsure how to crochet this Fabulous Planned Pooling Wrap pattern or the Crochet Perfect Planned Pooling Scarf Pattern Marly Bird does have some videos on YouTube that you can watch that may help you to get started and figure out what you're doing. Like the scarf, this too is done in the moss stitch which is an easy yet fun stitch to do.

---
Crochet Planned Pooling Pullover Pattern
This Crochet Planned Pooling Pullover is so pretty, it's definitely on my todo list. I absolutely love it and can't wait to find free time to work on this pattern for myself. I love sweaters but find I'm always pulling the sleeves up, this pullover is wonderful in that you feel like you're wearing a sweater but you don't have to fight with the sleeves, wonderful for those days where there's still a slight chill but not bad. The Planned Pooling Pullover is something you could dress up or go casual depending on what you wore with it.
Designed by Ann Mancini-Williams of Glamour4You using Red Heart Super Saver using the moss stitch for the body of this pattern  I'm definitely to see how everyone makes out with this Planned Pooling Pullover and the colours everyone chooses.

---
Crochet Planned Pooling Argyle Pillow Pattern
I am obsessed with pillows I have no idea why so when I saw this Crochet Planned Pooling Argyle Pillow pattern I was really excited. I know another pillow in this house is the last thing I need but they are so practical, between the kids using them to sit on the floor and my husband using them for his nap time they sure do get their use. So I really don't see an issue adding one more… Right?
Designed by Brenda-Leigh Bennett using Red Heart Super Saver. The Crochet Planned Pooling Argyle Pillow is an intermediate project, but since you've now mastered the last three projects here, this one won't be that hard really. The pillows have buttoned backs making it great if you need to take it off to wash with kids pets and spouses its a lovely option to have.

---
Crochet Happy Planned Pooling Blanket Pattern
Who doesn't love a cozy blanket, whether you're sitting on the couch the beach or at the campground a blanket in the evenings is lovely. This crochet Happy Planned Pooling Blanket pattern is a lovely one and much like the Perfect Planned Pooling Scarf and the Fabulous Planned Pooling Wrap it's just a straight moss stitch so once you have the first few rows established you're golden with the fun moss stitch.
Designed by Marly Bird using Red Heart Super Saver Pooling as well as Red Heart Super Saver this Crochet Happy Planned Pooling Blanket Pattern would make a lovely blanket for a child's room in any of the fun colours Reh Heart has, it would also make a great baby blanket if you were looking for ideas for something a little different. I really love the colours Marly choose in this pattern it's an easy pattern which will be a lovely break from all those hard ones we just put ourselves through in the last few months.

---
Crochet Planned Pooling Argyle Wristers
The final pattern for this collection of Crochet Planned Pooling Patterns is the Crochet Planned Pooling Argyle Wristers pattern they are practical and handy to have on you if you get cold hands often but want to keep your fingers free.
Designed by Linda Dean this intermediate pattern is made using Red Heart Super Saver. Like the last patterns, the Planned Pooling Wristers are done in the moss stitch and this fun alternative to gloves will make everyone in your life happy, once you've mastered them you'll be wanting to make them up in all kinds of fun colours. Make yourself a complete set with the scarf and the hat that you can find on Yarnspirations. You will be warm as well as stylish.