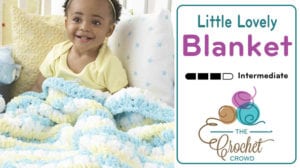 Crochet Little Lovely Baby Blanket
This free crochet baby blanket pattern is exclusive to JOANN Fabric and Craft Stores. It features the Little Lovely Blanket that has the crochet larksfoot stitch. This is the same pattern that we have a link for below. Bernat Clusters Baby Blanket.
Pattern Tip: In the pattern it says 3 Bernat Pipsqueak Balls. It is the 250 g sizes, not the smaller 100g.


Crocheting with Bernat Pipsqueak requires some knowledge of crochet as it's so fluffy, you cannot always see your stitches. You can use your finger tips to guide you through. As an experienced crocheter, I have no issues with crocheting with this yarn. You can make the softest ever baby blankets with this.
The tutorial below is showing you this same stitch using regular yarn so you can master your skills of the stitch and see exactly where I am sticking my hook. For the colours used and the free pattern, you can click "Get Pattern" button above and access it to get the yarn information needed.
The introduction of the video is one that I did last year but you can see, just changing the colour palette can change the over all look.
Tutorial