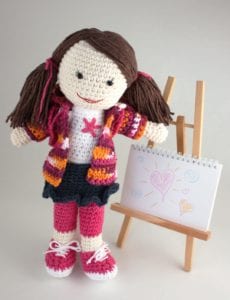 Meet Lily
Lily will be going back to school shortly and joining the rest of her friends. Did you know there is an entire collection of free doll patterns by Yarnspirations that feature Lily doing different tasks and outfits?
On the right is the Lily as she is preparing to go back to school. Let me share with you the rest of the collection.
These dolls are relatively simple and, of course, you can add your own embellishments. Best yet, the dolls are free patterns.
I've seen all of these in a show together as an ensemble once. They are super cute and you can customize for your kids or grandchildren.