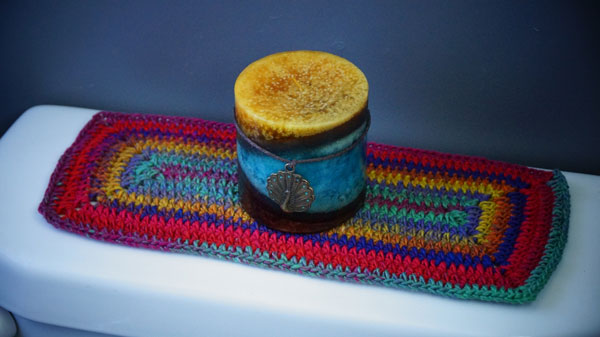 Vibrant Tank Topper Crochet Placemat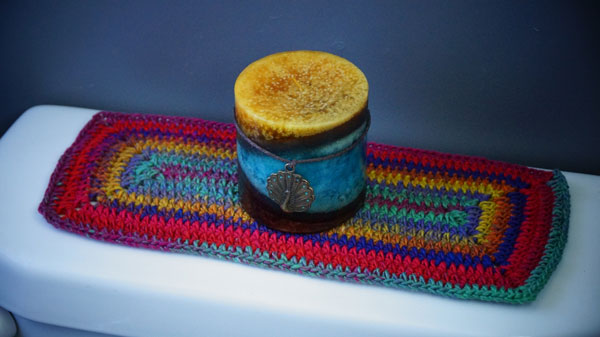 Vibrant Tank Topper Crochet Placemat
This tank topper is pretty uniform in size to fit most toilets. I have to admit to you, I'm not a fan of too many fabrics or carpet near a toilet due to the splash zone being a problem for guys. I like my little placemat as it gives the white porcelain a bit of character without having to cover the entire tank up. I love the yarn choice as it does all of the work for colour coordination.
This will measure approximately: 16″ long by 7″.
Materials Used:
1 ball of Bernat Mosaic Yarn, 3.5 oz or 100 g. Colour used of this mosaic is called Vivid.
Size G or 4.5 Crochet Hook
Free Pattern:
You never have to change colour as the yarn will transition through the colours on its own. In this pattern you will crochet along the starting chain and then back down the opposite side of the chain as you work from the inside going outward in a rectangle formation. Use this video to help you see how to crochet down the chain so you can clearly see the stitches when you crochet down the back side of the chain. You will complete this in a continuous rotation.
CH 37
HDC 3rd CH from Hook, HDC in each stitch to the 2nd Last CH. Last CH will get 2 HDC, 2 CH, 2 HDC, 2 CH, 2 HC. This will form the first short side of the rectangle. Do Not Turn, Just continue on the back side of the chain with 1 HDC into each stitch until the 2nd last CH. Last CH will get 2 HDC, 2 CH, 2 HDC, 2 CH and then slip stitch.
CH 2, 1 HDC into the same stitch, 1 HDC into each stitch along the row. At first corner, place *1 HDC, CH 2, 1 HDC*. HDC into each stitch until the next corner. Do the * in each corner. Also HDC into each stitch between the corners. Last corner will get 1 HDC, CH 2 and then Slip Stitch for finalize round.
Repeat Step 3, 6 Times.
Fasten off and weave in your ends.
Michael Sellick, ©2012 The Crochet Crowd