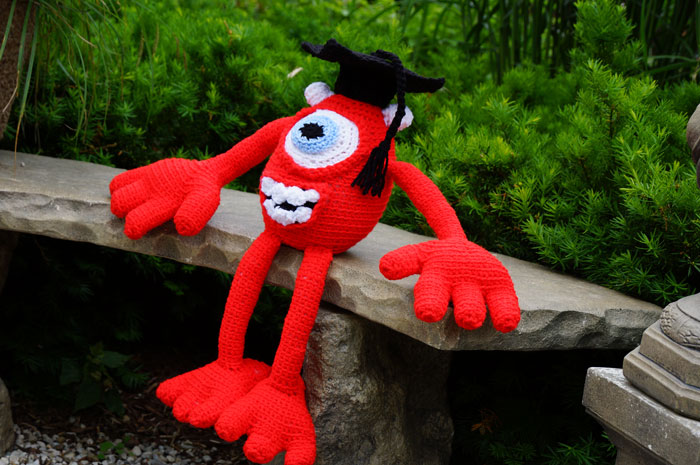 Mike The Monster: Graduation Hat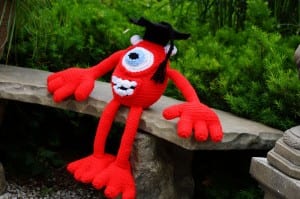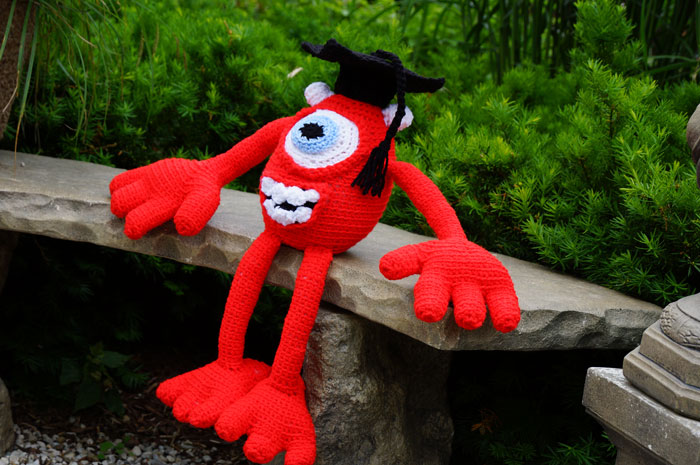 Graduation Hat
If you have completed our mystery challenge of Mike The Monster, I have created a mini graduation hat that fits on top of his head.
This is just a fun accessory that is super adorable. For those working on our challenge, this hat is optional as it's not part of the original pattern.
Mike's hat is sewed to the top of his head in a way that I can easily cut it loose and replace it with another hat or leave him without a hat.
Materials Required
Size H, 5.0mm Crochet Hook
5″ Square, Cardboard Square. (Mikey used cardboard from a cereal box.)
1 Ball Red Heart Super Saver, Black
Darning Needle
Prepare for Project
Using a cereal box or type of cardboard, cut a 5″ x 5″ Square. This will be used inside the top of the hat to hold the shape.
Make 2 Square Panels
Using Red Heart Super Saver, Ch 18. SC 2nd chain from the hook all the way across the chain. Turn.
Ch 1, SC in each stitch across.
Repeat step 2 – 14 times. Use cardboard square to measure up against. The panel should be matching the shape.
Secure Top Panels with Cardboard Insert
Put the two panels together and SC around the edges using both stitches from both panels. Corners will have 3 SC in each to make the corner refined.
Once three sides are complete, insert the cardboard and continue to SC around permanently locking in the cardboard.
Brim of Hat that Sits on Character
You will be creating 1 panel that is eventually folded in half and sewed to provide a thick brim so the hat sits up properly.
Ch 8, SC 2nd Ch from hook and continue across the chain. TURN.
Ch 1, SC in each stitch across.
Repeat step 2 – 24 times.
Fasten off.
Fold the brim in half so that the sides of the panel match each other. Sew the three exposed sides to create a thick panel.
Using the two short sides, sew together so that the brim is in a permanent ring. It will resemble a toilet roll.
Assembly
Sew the brim to the center of the square panel. Directly in the middle.
Tassel
Leaving long tail to start so you can use it to sew onto the hat.
Ch 22, SC 2nd chain from hook and all the way across.
Using 9″ – 6 strands of yarn. Fold in half and insert the loop into one end of the chain and do an over hand knot.
Sew the start chain to the centre of the top of the hat.
Cut 9″ strand yarns to the desired length.