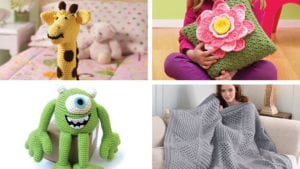 Stitch Alongs for 2014
2014 marked the year to test try regular Stitch Alongs with the crochet community. The idea came from VP of Marketing of Red Heart Yarns with doing a test trial of a Filet Crochet Valentine Scarf. We wanted to test to see if the idea would be of interest to crocheters.
Stitch Alongs was started to become a new craze. Today in 2019 as we roll over to 2020, they are a multi-project per year concept that we love to play with.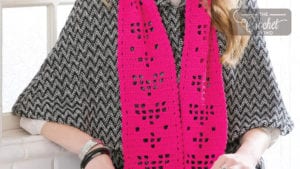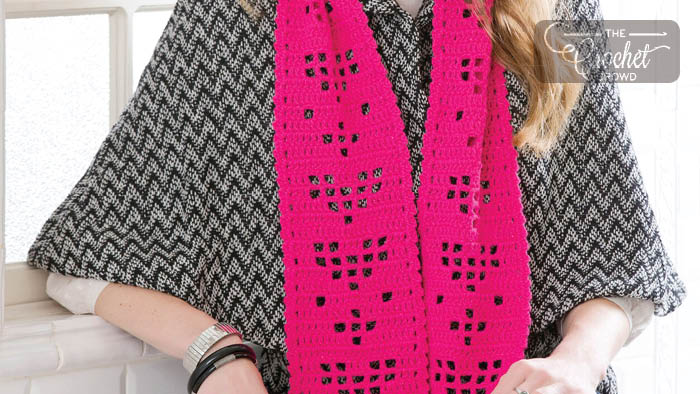 Valentine Scarf - Test Trial
The Crochet Valentine Scarf was our first project. We learned that community members love to make items together as a community and shared their results.
The trick to filet crochet is following the graphs. The lessons were intended for showing people how to use graphs and potentially make their own graphs.


It was the first time collecting photos for a croche along. Audience members submitted to us over 800 photos of their completed scarves. View the Shimmery Valentines Heart Pictures here.
Finally, we tested to see if teaching in UK terms as possible. For me, I struggled as the stitches have the same names but mean different things. A quick study was done and this is wasn't a success for this element.
Tutorial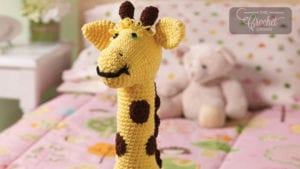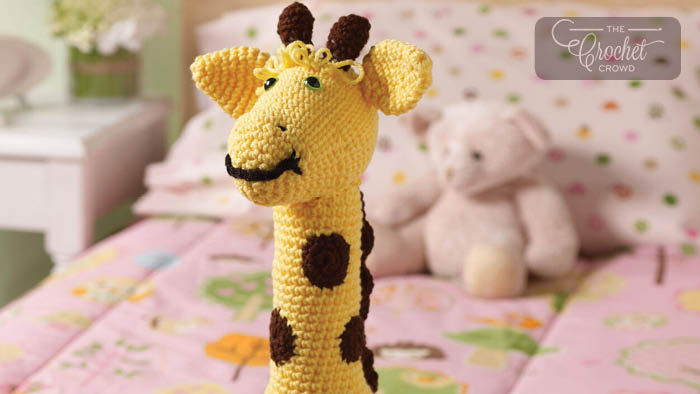 Crochet Giraffe
The Crochet Giraffe would be our next challenge in presenting a mystery character without being knowing it's a giraffe. It was presented in a way that the main section of the giraffe was left to the end so people couldn't figure it out as the body and neck are one section.
Over 1350 crochet giraffes were completed. You can see the full Gallery of Crochet Giraffes here.


This pattern was developed by Michele Wilcox in UK Terms. I translated the pattern back to US Terms and changed a couple elements. So I am credited for the Adaptation of this pattern but I am certainly not the original inspiration of this.
Tutorial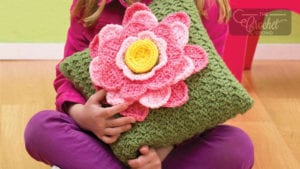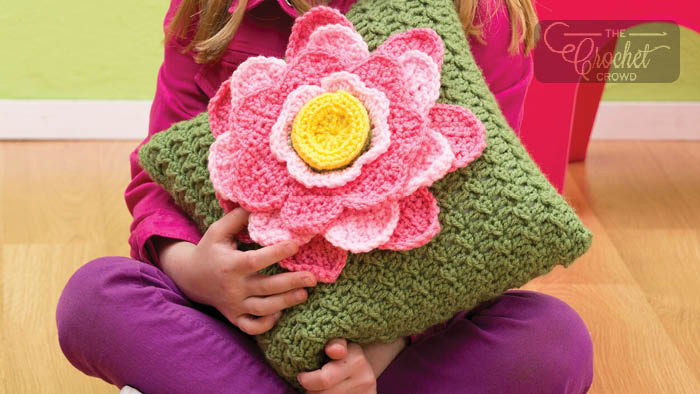 Spring Fling Pillow
The Crochet Spring Fling Pillow was a small 12" Pillow. This particular stitch along took off like a bat out of hell for popularity. Pillows are a hard project to convince people to want to complete.
There were over 650 participants that finished on time. See the finished Gallery of Spring Fling Pillows.


This was so popular, the magazine editor-in-chief for A Needle Pulling Thread Magazine featured all entered pillows in their magazine. It was truly an honour.
Tutorial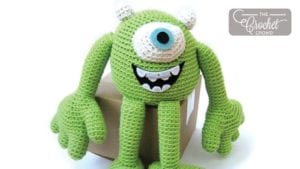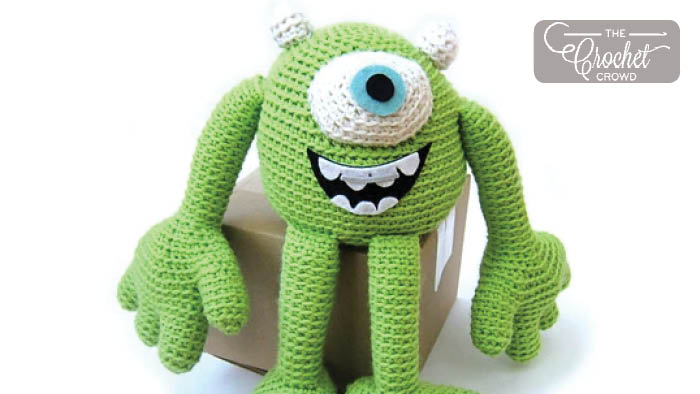 Mike the Monster Crochet Doll
The Crochet Mike the Monster is authorized by Disney Character in crochet format. Stacey Trock of FreshStitches.com designed this character and received special permission from Disney. With doing a Registered Trademarked item, there are certain restrictions in place.
The pattern cannot be sold. It must be given out for free.
The finished projects cannot be sold as Mike The Monster which includes raffling him off.
A crocheter cannot state its official merchandise of Disney. The pattern is intended for sharing and for people to crochet him without financially benefiting from it.


Mike the Monster was presented and it took a few weeks for people to figure out what we were actually crocheting. There are over 900 photos of this character that were collected during the stitch along. Some are really over the top for accessories added to the doll. See Mike the Monster Gallery.
Tutorial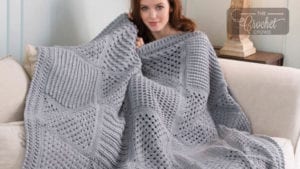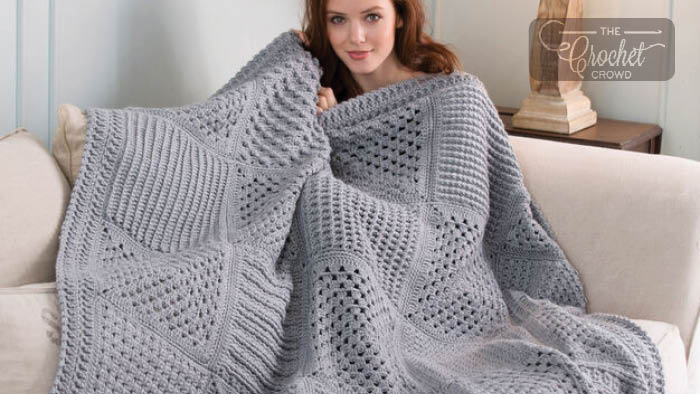 Crochet Checkerboard Afghan
The Crochet Checkerboard Afghan was presented in 10 parts as there are 10 different squares that work together. It's hard to tell in the project. For the fun of it, we changed the colours to be more reflective of what we wanted to achieve.
We presented this as a 2-month summer challenge which we called Stitch-cation. I remember coming up with that name in spring over supper with our friend Colleen.


We presented this as a workbook format. The afghan on the front cover is the same but injected with Red Heart Super Saver colours.
Stitch-cation Workbook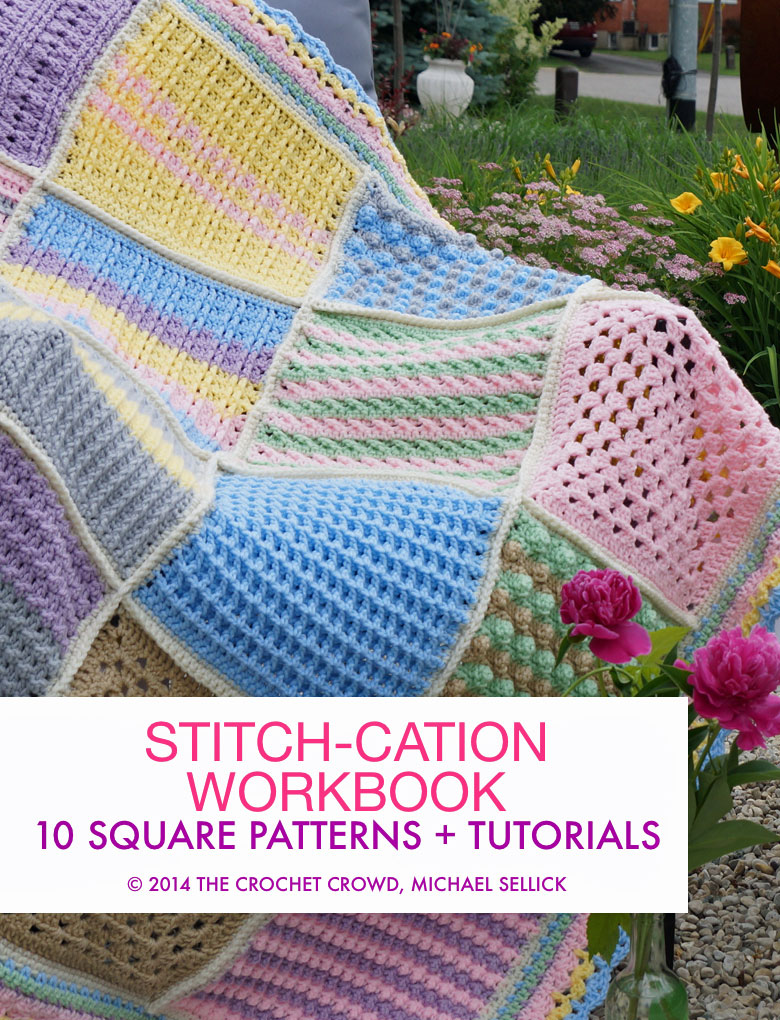 Over 730 entries were received with this afghan sample. Some people really blew us away with a lot of advance thought of planning colours. See the Stitch-cation (Checkboard Afghan) Gallery.
Tutorial
This concluded 2014 with trials of Stitch Alongs.