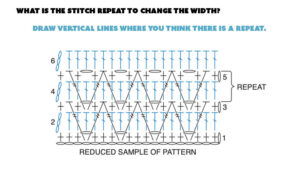 Understanding Crochet Stitch Multiples
When crocheters love a pattern concept, some want to change the size of the project. When there is more than 1 stitch that makes up the pattern look. A multiple must be determined.
When people message us to figure out a stitch count, we must either look at a pre-drawn diagram but in most cases, we have to draw the diagram by hand on graph paper to figure it out. This is the only way I know how to figure out a multiple, I must draw it out.
Sometimes a designer will provide the stitch multiple for you. What complicates the stitch multiple is the additional chains needed to keep the stitch repeat in balance. The multiples could be 3 + 2 or even things like 12 + 28.
The first number is the actual repeat of of the stitch multiple. The second number is the additional chains needed for the balance. If both numbers are the same like 4 + 4. The stitch multiple is just stated as 4.
More Ideas
Workshop
Turn your phone sideways if the PDF isn't big enough for you. The answer to the Workshop at the end can be found in the pattern itself. It's called the Love Knot Crochet Blanket. The designer recorded it on the pattern if you want to check to see if you are right. 
https://thecrochetcrowd.com/wp-content/uploads/2020/07/Understanding-Multiples.pdf
Tutorial
Another workshop in video format.
This is the pattern shown in the diagram for you to figure it it out. This is the complete tutorial for this amazing Love Knot Crochet Blanket.

More Blanket Patterns