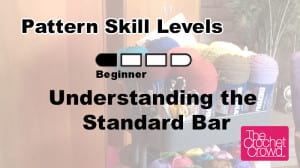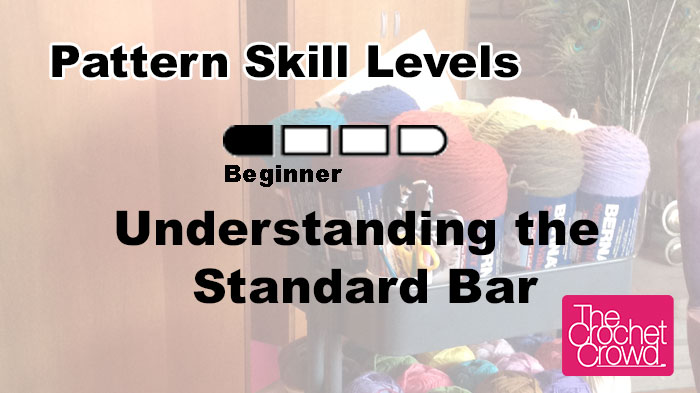 What Are The Pattern Skill Levels?
With major publishers and yarn companies who produce patterns, there is usually a Pattern Skill Level Bar with 4 increments. The level of pattern is indicated here.
Many crocheters use this bar as an indicator right off the bat to determine if they are capable of doing the pattern without actually reading the pattern. Though I must admit, I have missed out on crocheting some great projects with fear that I wasn't capable of doing something.
More Tips
Sometimes, we just want something simple even though we are capable of doing something more challenging. Each one of these increments have a meaning behind it which is used to determine the skill level. Though I must admit, I have seen patterns marked easy and I have had a conniption trying to figure it out. I have added in my own words what the levels mean to me.
Pattern Levels
As described by the Yarn Craft Council of America.
Beginner, 1 Increment Filled In
Projects intended for first-time crocheters using basic stitches and minimal shaping.

In my own words, these are simple afghans and dishcloths. Most likely not changing colours or doing anything fancy.
Excellent pattern for new crocheters to build their skills on. Practice makes perfect.
For experienced crocheters, you can probably watch TV and crochet at the same time without missing a stitch. A non-brainer as your hands will do the work without much thought.
Easy, 2 Increments Filled In
Projects using basic stitches, repetitive stitches, colour changes and simple shaping and finishing.

In my own words, afghans or projects where there are stitches that repeat to create textures based on the stitches have a unique look. There's not a lot of complex shaping or anything that requires you to throw your hook across the room in frustration.
Experienced crocheters and glance up and down from the TV but have to concentrate once in a while. You don't have to obsessively count but your family members may see you mumble and ask you to repeat.
Intermediate, 3 Increments Filled In
Projects using a variety of different stitches or techniques such as basic lace patterns or colour patterns with mid-level shaping and finishing.

In my own words, afghan or projects where you are playing with multiples of different stitches to create interesting effects with stitches. Shaping requiring closer attention such as clothing and more.
Better know how to count in your head and hopefully not getting tired of counting to same number.
If the project is too big, you might get tired of it depending how badly you want to finish it.
Experienced, 4 Increments Filled In
Projects with intricate stitch patterns, techniques, dimension such as non repeating pattern, multi colour techniques, threads, small hooks, and detailed shapes and fine attention to finishing.

In my own words, has the potential for the hook to go flying across the room if you are not paying attention to the pattern. The pattern will require a lot more concentration and a lot less conversation.
Your tongue may hang out of your mouth as you crochet as you are concentrating so hard. You have the potential to have sudden fits of rage if something interrupts, better warn anyone in your surroundings first.
You are better off to crochet on your own and no one gets hurt.