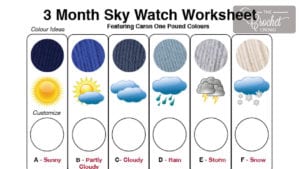 3 Month Crochet Sky Watch Blanket
Look up and outside and take your own readings of what the sky is reading to you. Choose a time of day to look up or just give an overall impression of the day. From full sun to cloudy to snow, the sky will determine your shades of blue for your new blanket.
Print out 3 copies of the Sky Watch Worksheet and begin to record your daily observations of the sky.
Download or Print This Worksheet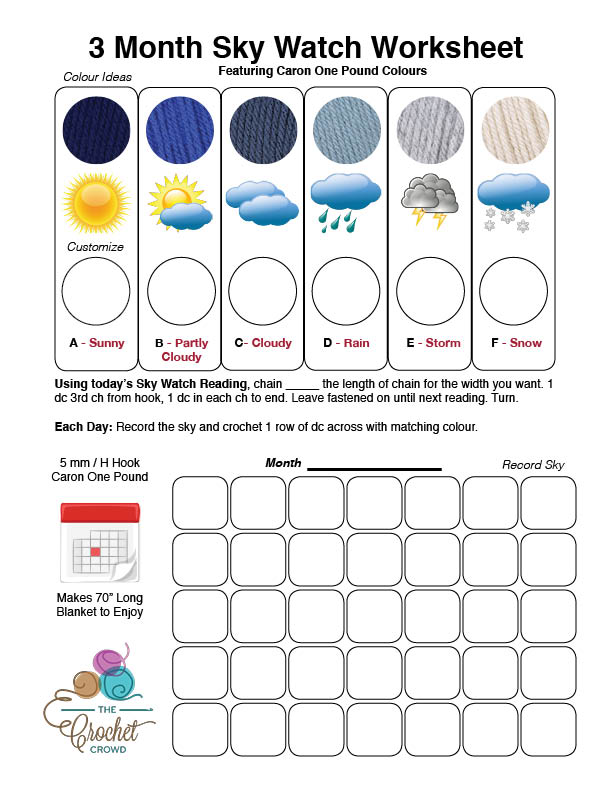 Customize Your Afghan
I have selected colours from the Caron One Pound yarn family. I have left you blank circles if you would like to customize your own colours. If you prefer another yarn, the sizing of height I figured out is ¾" high per row.
Crochet a chain as wide as you need. Each daily reading is a row of 1 double crochet. I wouldn't fasten off at the end of a daily crochet line as the next day could be the same sky observation.
Use the bottom calendar box to record. I have labeled each observation as a letter for your convenience to record.
At the end of 3 months, you blanket will just over a throw size of about 70" long.
So look up and see the sky and record it into your new blanket.