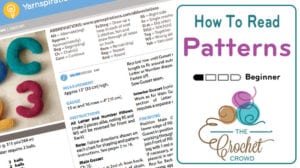 Learn How to Read Crochet Patterns
Reading crochet patterns is vital for crocheters who want to expand their skills and abilities to do different projects. However, for newbie crocheters, where exactly do you need to start and what are some of the obstacles involved.
Other Helpful Tips
The tutorial below is a comprehensive look at crochet patterns as a whole. Everything from abbreviations, pattern instructions, repeats and so much more.
Watching the full tutorial may change your crochet journey in allowing you to see that reading patterns is not as hard as it may seem. Take the mystery out of crochet and follow along.
Tutorial