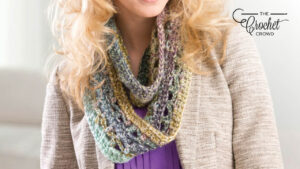 The Crochet Sofia Cowl is only 7 rounds starting with a foundation double crochet. It's a bit lacy with a visual interest in fashion.
The tutorial included will show you how to make a foundation double crochet. It's not something I particularly enjoy, stitch-wise but it has a great purpose and has a better balance for a project like this.
The stitch multiples to change the stitch are multiples of 6. So you can change the circumference which also means you can change out the yarn to make this work.
Very easy to complete and really make this cowl look outstanding. It's more for dressing up then for direct warmth but it would take the chill from your neck.
More Ideas

Tutorial
More Cowls