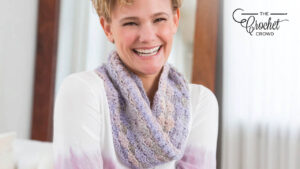 Crochet this textured beautiful Le Papillon (Butterfly in English) Textured Crochet Cowl. Using Red Heart Unforgettable for beautiful transition.
This cowl is unique as it starts off with a foundation single crochet row. Half of the cowl is formed by going back and forth in the rows. Once completed, the cowl is turned over to the other side of the foundation row and crocheted up. This makes the centre of the cowl have a beautiful bobble stitch that is delicious in texture.
Easy to crochet once you get established and with the right yarn, would be an amazing accessory.
More Ideas

Tutorial
More Cowls