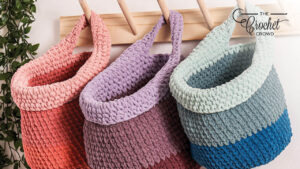 The Crochet One and Done Baskets are using the newest Bernat Blanket in O'Go Wrapping format. Each O'Go makes 1 complete basket.
In the tutorial provided, I share advice about changing the base of the basket to regular single crochet instead of the split single crochet as it's harder to see right at the beginning. Once more of the project is done, the split single crochet is easier to accomplish.
Split Single Crochet provides a knitted compact look. It's commonly used for fair isle or intarsia concepts in yarn crafts.
There's no doubt, it's a beautiful stitch but ensure you give yourself some slack on your mental state if you find it hard, like I do, to get started. Once I am on my way, no problem.
More Ideas

Tutorial
More Home Decor