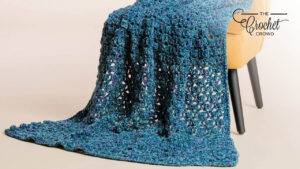 The Crochet Easy Blocks Velvet Blanket and a 4 row repeat once you get going with a simple border.
There is a crochet diagram to assist you in following through with each of the rows. It partially resembles a modern granny stitch with a slight variation for visual interest.
The advantage of this pattern is the use of spaces so it's easy to be able to place the stitchwork and follow through.
More Ideas

Tutorial
More Afghans