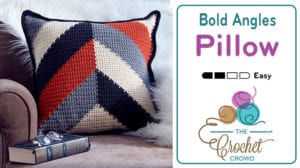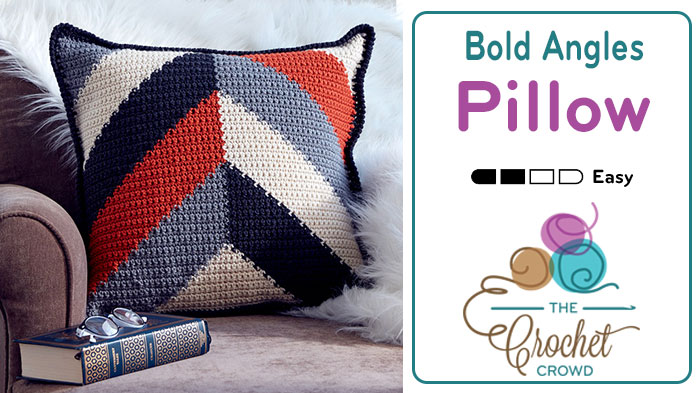 Crochet Bold Angles Pillow
The Crochet Bold Angles Pillow is based on a graphghan type of project. The panels you see are not separate and then sewn together. They are based on following a graph and changing the colours when needed to maintain the design.
Technically speaking, this is not a hard design as the angles are consistent and the stripes are the same width. As you work through the graph, highlight the finished section to continue along. I think you will enjoy this project.


I have a comprehensive tutorial for beginners for graphghan concepts.
The tutorial for this pillow is an overview. How to read the graphs and how to follow it with starting you off. If you would like further information and tips, the Beginners Graphghan Video will share everything you need to know about this concept.
Gray Matters is part of the Lookbook Collection by Yarnspirations. This project is featured as one of the projects inside this free lookbook.
Gray Matters Lookbook
This lookbook features the ideas revolving around the colour gray. Gray is one of the most bought colours by knitters and crocheters. It's a colour that can be neutral in both home decor setting and for the recipient to receive.
For myself, I think gray is one of the most underestimated colours in the yarn. People tend to gravitate towards many colours but eventually circle back to gray. Gray can be so many terrific shades.
Tutorial
More Pillow Pattern Ideas
No post was found with your current grid settings. You should verify if you have posts inside the current selected post type(s) and if the meta key filter is not too much restrictive.