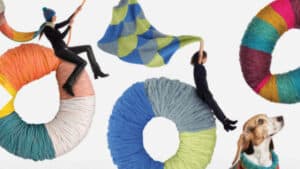 The new O'Go form of yarn wrapping to provide a tangle-free option has launched in August 2021. 100+ New Patterns for crocheters and knitters was launched at the same time. But wait, there's more to come.
It was monumental to not only change the concept of how yarn is wrapped but also provide pattern support to go along with it.
Red Heart Super Saver O'Gos are the same yardage and weight.
Bernat Blanket O'Go are the same yardage and weight.
Caron Colorama O'Go is brand new.
Caron Big Donut O'Go isn't released yet but more is coming later on in 2021.
Super Saver O'Gos will be at Walmart USA and Canada. Caron Colorama at JOANN. Caron Big Donut will be at Michaels. Bernat Blanket will be at Walmart USA/Canada, Michaels USA/Canada and JOANN. They can also be found online on the retailer websites and Yarnspirations.com.
With the new self-striping yarns in different lengths, new patterns had to be formed to match the concepts. It's been really neat to watch this play out.
There is a technology change behind the scenes to provide the 80% of people who wanted the tangles to be addressed by the yarn company to be solved. So there is a small price increase for the 100's of winders that needed to be changed to provide this. This is not replacing yarn balls but an option for those who would love this option.
As time progresses, so does the evolution of packaging and much more. There's been some pushback for changes and that's to be expected as people are happy with the way things are done. Like anything, this is the launch and adjustments or tweaks will be made. This is just the beginning.
More Ideas

Tutorial
More O'Go Patterns
This will build as more patterns are indexed.
No post was found with your current grid settings. You should verify if you have posts inside the current selected post type(s) and if the meta key filter is not too much restrictive.