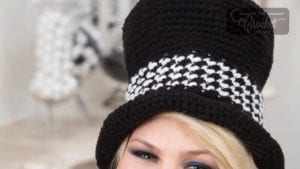 Exciting New Top Hat
From the same designer that did the Halloween Top Hats, she has come back this year with a new spin to it. As seen on the right, you can definitely see there is a change.
Red Heart has been busy launching new Halloween projects for this year. Let me give you a few ideas to inspire you further. See lists below and they are clickable links to the patterns.
If you prefer the original top hat pattern, you can follow the video tutorial to make your own.