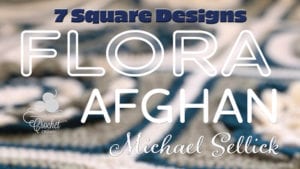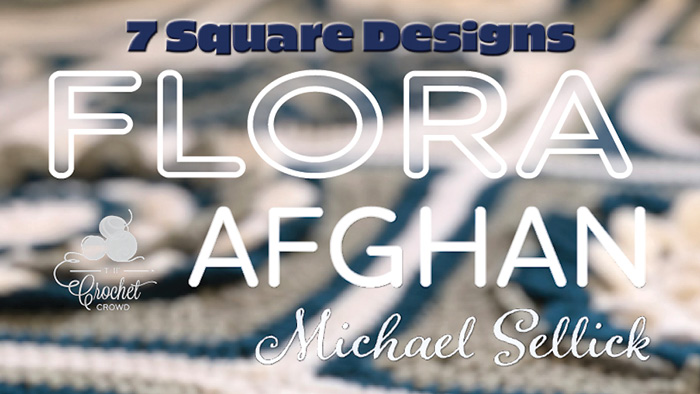 Crochet Flora Afghan
The Crochet Flora Afghan was inspired by a dishcloth that morphed into creating a set of 7 distinct crochet squares. The concept was to use to appease the crocheters in selecting squares they most loved. If a crocheter didn't love a square, they could leave it out and fill it in with another square.
Over a weekend in November 2018, while watching gardening shows, I was inspired by the fountains and flowers. It became the theme. The final afghan is 62" x 76" with using 20 squares. One square, you only need to do two of them.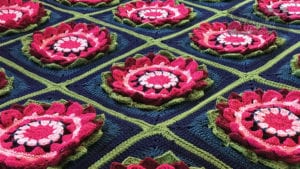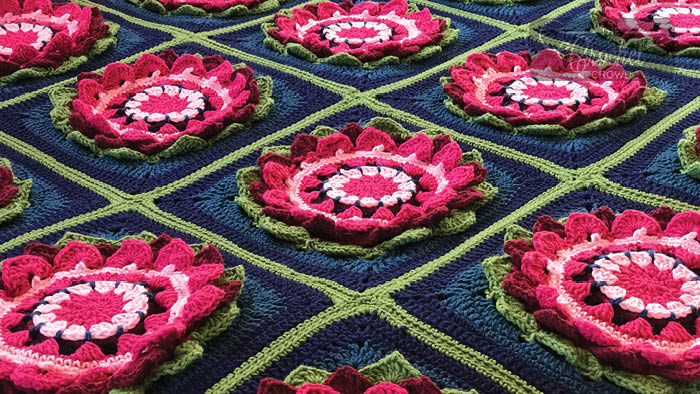 Inspired by the Lilies in August Square, I crocheted one entire afghan just what that square along. I did this while cruising with a bunch of my friends on a cruise ship. This particular pattern is also available on its own as it uses a different colour scheme but was constructed the same as the Lilies in August in the Flora Afghan.


Pattern Suggestions
Free Flora Afghan eBook Downloads
We have two downloads.
The first download is the complete book with community photos. It's high in file size and in full colour.
The second download is just the patterns and is much less in file size.
The files have been compressed to be as low as possible. Click Covers to Download. Both books have patterns, so you don't technically need to download both. The patterns only version is much smaller to save space on your device.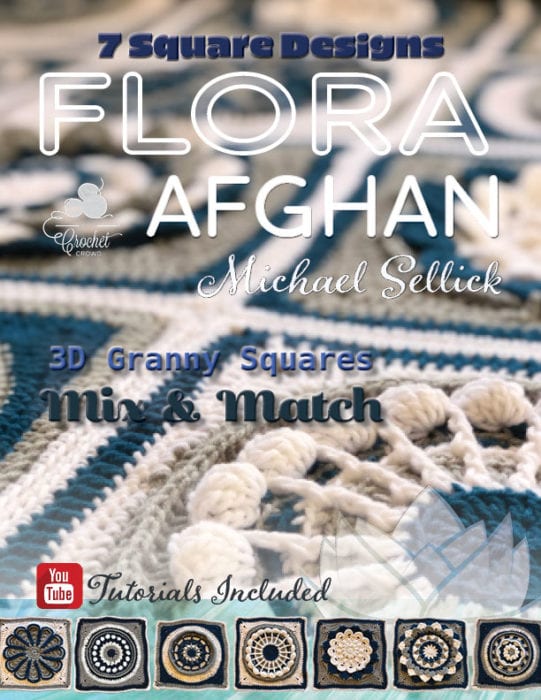 ---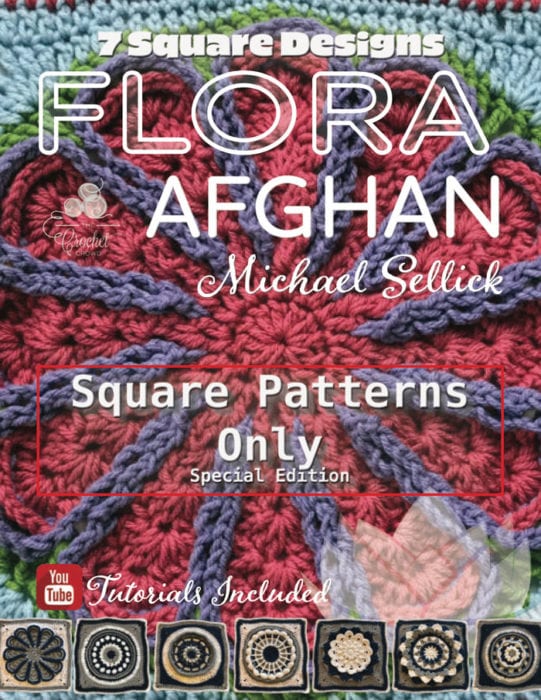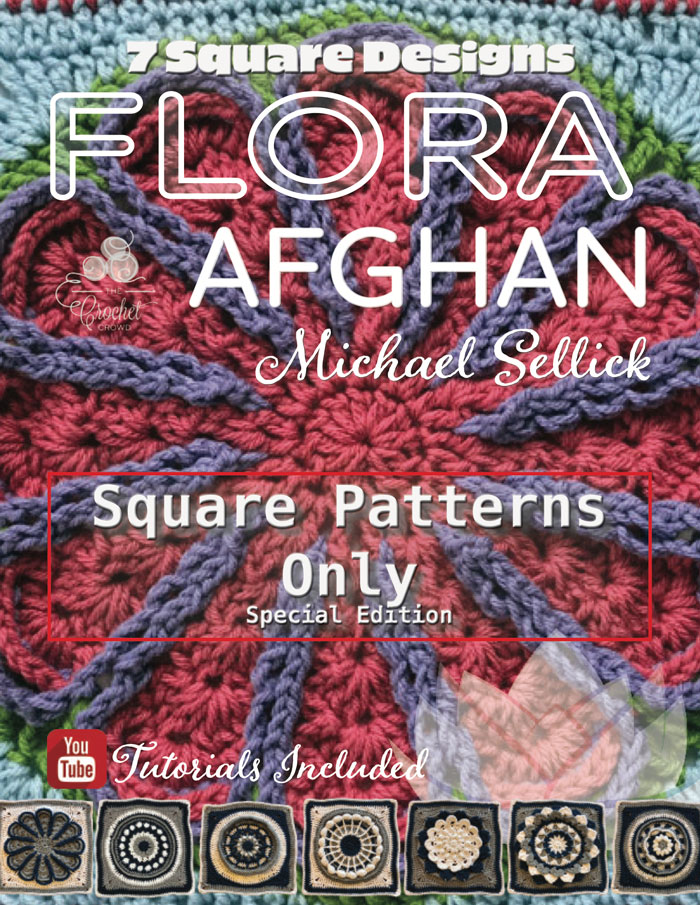 ---
April 2019 - Chrysanthemum Square Tutorial
May 2019 - Flower Clock Square Tutorial
June 2019 - Hydrangea Square Tutorial
July 2019 - Posy Square Tutorial
August 2019 - Lilies in August Tutorial
September 2019 - Water Fountain Tutorial
October 2019 - Queen Anne Lace Square
Final Border
In watching crochet along of our past, there's a common thread of conversation in crocheters wanting more of a challenge. This concept started with a crocheter emailing me to have one of these shapes converted to a square. You can see it here on the right-hand side, middle square. There's a duplicate of the square on the upper left, 2nd one in.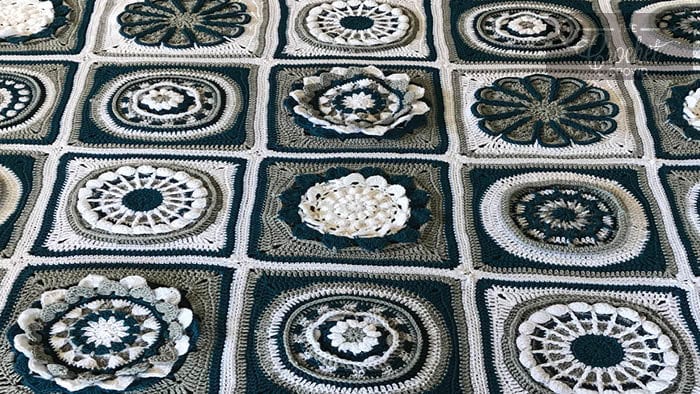 One thing led to another and Daniel challenged me to retry it a second time but giving it more texture. Once I had completed it, Daniel suggested I do another one that matches the size. This is what led to the full creation of this concept. Over 2 days while being inspired by Don Monty's Garden Shows on Netflix.
To complete the full afghan that is 4 x 5 squares. This afghan is a sampler where I have mixed up the squares so they are sitting randomly. Many people prefer more symmetry.
Video Introduction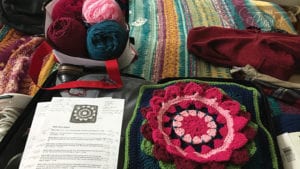 Back Story
After completing all of the designs. I was scheduled for a personal vacation. So I decided to take the Lilies in August Square with me. I did up one square sample to test my pattern and weigh the yarn so I knew how much to take with me.
With a goal to make an additional 19. I started to crochet at the airport. Between connecting flights and more, I was able to get comfortably started.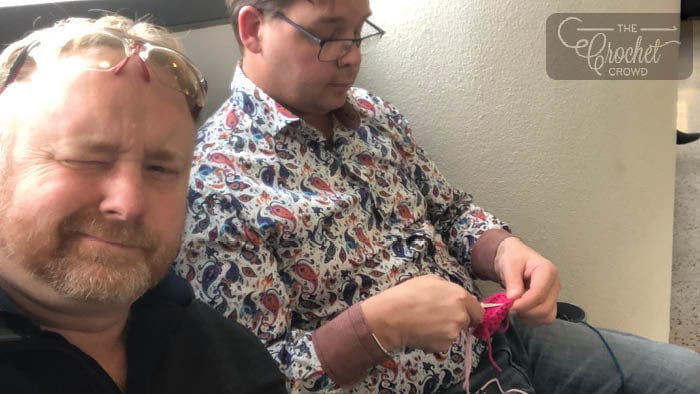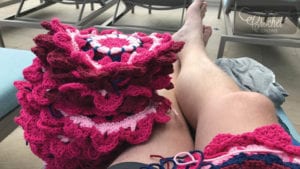 While on my 10-day vacation, during quiet times. I took my project with me. Whether I was sitting on a beach, deck chair or even lounge. Other passengers on holidays were taking mental notes and began to realize I was making something big.
I found passengers asking me about my project and as the days progressed, they were seeing how fast I was doing my project. I don't claim to be a fast crocheter. I do claim to be determined.
By 2nd last day, I laid my afghan on the carpet to get a bird's eye view of it. I whip stitched the afghan together and took it home.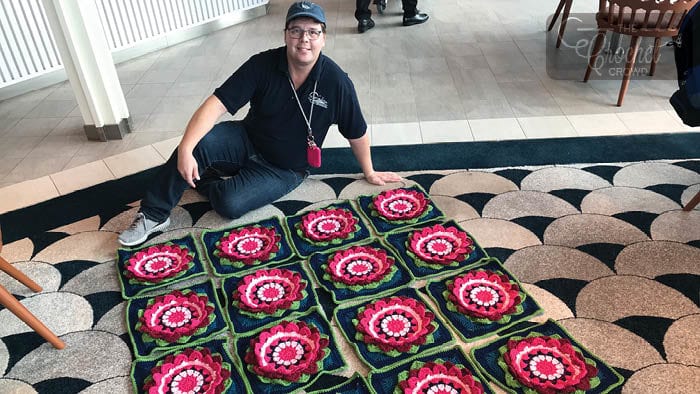 If you really like the Lilies in August blanket on its own. I know the ball colours and counts for Caron One Pound. They are as follows:
A - Dark Pink - 2 Balls

B - Soft Pink - 1  Ball

C - Ocean Blue - 1 Ball

D - Country Rose - 2 Balls

E - Midnight Blue - 2 Balls

F - Grass Green - 2 Balls
This square will be released in August if you couldn't tell by the name. The pattern is written based on 3 colours. If you see the picture below, you can see how I put the colours together.
Colours Used in Blue / White Sample
2 Balls Caron One Pound White
2 Balls Caron One Pound Ocean
2 Balls Caron One Pound Soft Gray Mix
The pattern is written where I have changed the colour in areas that made sense. You will see the conversion sheets to tell you how much yarn I used for each colour change in every square. This means you see my colourful example, that is using 5 colours, you can do the same thing or even use more colours. I gave you the yardages to be able to strategically plan your project.
More Stitch Alongs