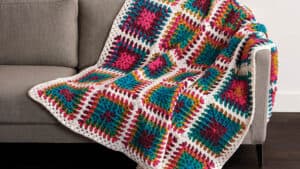 The Crochet Kaleidoscope Blanket was a lot of fun to elevate the typical granny square into a texture. Easy to make, fabulous to gawk at.
The Red Heart Super Savers are in O'Go format for this blanket. Yes, the O'Gos are the same yardage as the original ball format. And no, O'Gos are not replacing the yarn balls. This is an option.
If you prefer to control the colours and not just let the Jewel Tone O'Go do its own thing and change on its own. You can do that.
O'Gos remarkably store easily. In fact, for an extra half-inch in the width, you can get 2 extra O'Go's versus the original format. Shocking, I know. I wouldn't have believed it unless I did it myself.
More Ideas

Tutorial
More O'Gos
This gallery will grow in time as O'Go format will continue on.