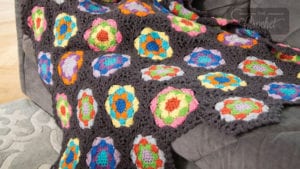 Crochet Kaleidoscope Blanket
Create your own amazing afghan that is a fabulous stash buster. The Crochet Kaleidoscope Blanket is a great destasher. Mix and match your entire afghan with a neutral border that connects the afghan together. We have the free pattern as well as a video tutorial to help you out. Designed by Katherine Eng.
Create your own unique inspiration today.
Tutorial
These are great gifts for charity and kid size afghans. Don't be afraid to explore the rainbow to find the perfect colour mix that suits you!
More Patterns to Discover
Crochet Rainbow Waves Throw + Tutorial
More Afghans