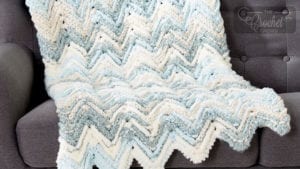 Crochet Raised Chevron Blanket
The Crochet Raised Chevron Blanket is made up of double crochets in wave format. It's in multiples of 16 + 3 so you can change the side. With deep cutting waves using the back posts, it's highly textured and really fancy looking.
The yarn changes colours and texture on its own. So there is no fuss in doing that fabulous colour story.


More Wave Ideas
For the size shown, it uses 7 balls in total. The colour shown is Cream / Teal.
More Wave Ideas