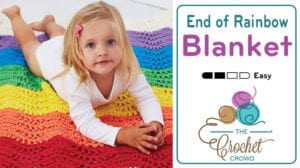 Crochet End of The Rainbow Blanket
Learn to crochet this textured wavy blanket called End of the Rainbow. From the angle of the photography, you don't really get a sense of the luscious texture that is in this afghan. You will be pleasantly surprised when you view the tutorial to see how generous the stitch sizing is and what you can expect from this afghan.
This afghan is easy to remember the pattern that has only 2 rows. One of the two rows is really simple with just single crochet across and the other is creating the waves. I bet you blast right through this with ease.


Video Tutorial
Afghan Pattern Ideas