Back Loops Wave Stitch
The Back Loops Wave Stitch is very similar to a regular crochet wave stitch. The significant difference is that every other row, you will use the back loops only. This causes the waves to lift up from each other for a three dimensions textured look.
I figured out the math to make this stitch in different sizes.
 Sizes
| | | | | | |
| --- | --- | --- | --- | --- | --- |
| Mattress Size | Size of Afghan | Dimensions | Starting Chain Count | Rows Required | Balls R'qd |
| This Pattern | Throw | 42″ x 67″  | 139  | 80 Rows5 Colours = 16 Rowsfor each Colour  |  10 Balls  |
|  39″ x 75″ |  Twin | 66″ x 90″ | 244 |  120 Rows | ? |
| 54″ x 75″ | Full / Double | 80″ x 90″ | 304 | 120 Rows | ? |
| 60″ x 80″ |  Queen | 90″ x 90″ | 349 | 120 Rows | ? |
| 78″ x 84″ | King |  108″ x 90″ | 409 | 120 Rows | ? |
|  39″ x 75″ | Day Bed |  66″ x 90″ | 244 | 120 Rows | ? |
|  48″ x 84″ |  Single Waterbed | 66″ x 90″ | 244 | 120 Rows | ? |
| 60″ x 84″ | Queen Waterbed | 90″ x 90″ | 349 | 120 Rows | ? |
| 72″ x 84″ | King Waterbed | 108″ x 90″ | 409 | 120 Rows | ? |
Crochet Diagrams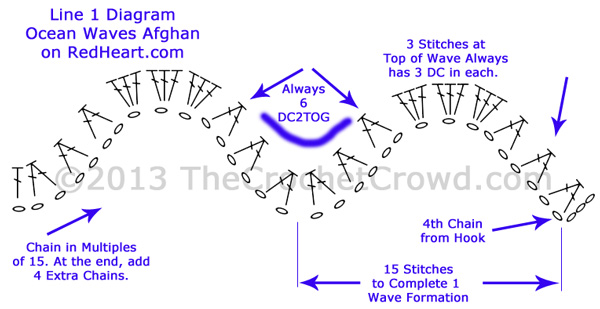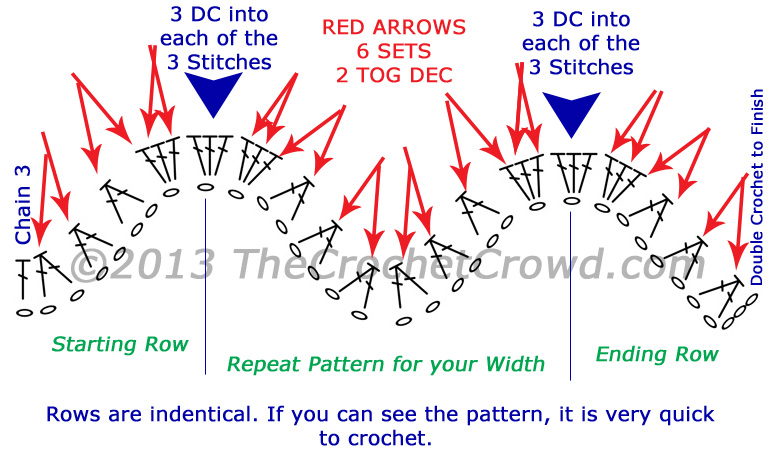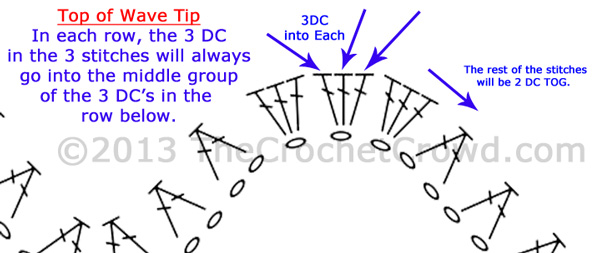 Video Tutorial