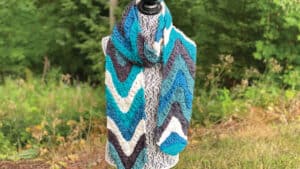 The Crochet Sweeping Waves O'Go Scarf is my own design based on deep plunging waves with texture.
My first design using this yarn to test to see how far 2 O'Gos could take me. I was so surprised as this scarf measures 88" long. It's generous considering it's chunky #5 yarn.
With the colour play option of controlling the colours. Do two rows of 1 colour and then switch to another. The scarf has been crocheted randomly based on the strategy that is in the pattern instructions. Doing random can make each time you do this scarf look different.
Great pattern for gift giving, for yourself or for a charity near you to keep people warm in the winter.
More Ideas

Tutorial
Not available at this time.
More Scarves